BREAKING: Hateful DeSantis bans classic children's books 'Whore & Peace' 'Charlotte's Web Cam' and 'Moby's Dick'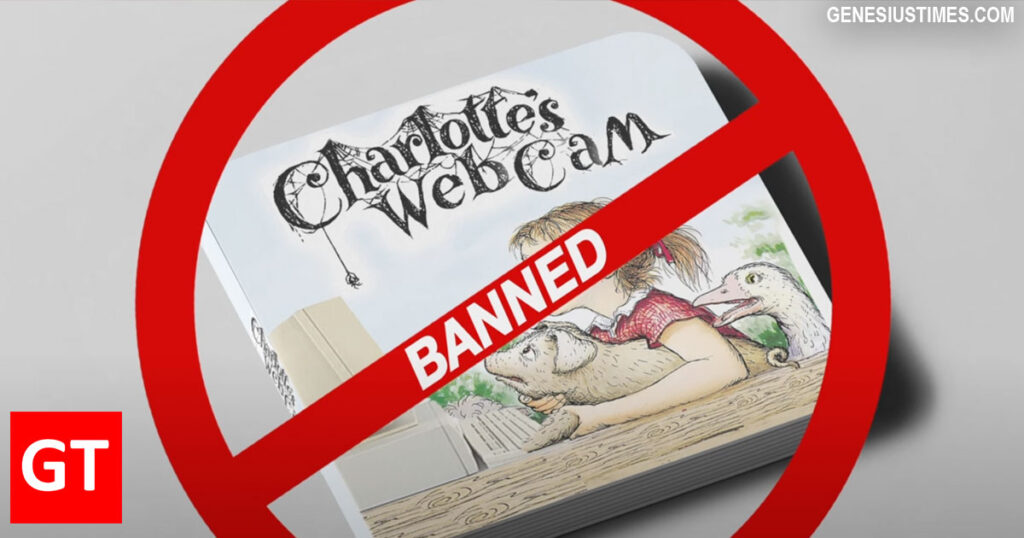 TALLAHASSEE—In a shocking move that has left literary enthusiasts scratching their heads, Florida Governor Ron DeSantis has announced a ban on several classic children's books, including "Whore & Peace," "Charlotte's Web Cam," and "Charlie & the Sausage Factory," The Glorious American reported. The decision has sparked outrage and confusion among educators, parents, and lovers of literature alike.
Governor DeSantis, known for his conservative views, defended the ban during a press conference held at the State Capitol. "These books promote immoral behavior and inappropriate themes for our young readers," he declared. "We must protect our children from the corrupting influence of literature that undermines traditional values."
"Whore & Peace," a whimsical tale of a young girl navigating the challenges of 19th-century Russian brothels, has long been celebrated as a pornographic masterpiece. However, Governor DeSantis argues that its explicit content and themes are not suitable for young minds. He expressed concerns about the book's title, implying that it promotes promiscuity and undermines moral values.
"Charlotte's Web Cam," a heartwarming story about a spider's determination to save her pig friend's Only Fans account, has also fallen victim to the ban. Governor DeSantis claims that the book's title sends a dangerous message by introducing children to the world of webcams at an early age. He expressed fears that it could normalize online surveillance and encourage inappropriate behavior.
Finally, "Charlie & the Sausage Factory," a beloved tale of a young boy's adventure in a magical sausage factory, has been deemed unacceptable by the governor, citing concerns about disgusting food production.
The ban has sparked a wave of reactions from literary circles, with many questioning the governor's understanding of satire and literary themes. Critics argue that these books have been cherished for generations, offering valuable life lessons, sparking imagination, and promoting critical thinking among young readers.
Educators, librarians, and parents have expressed their dismay, emphasizing the importance of freedom of expression and the power of literature to educate and entertain. Some have even organized book readings and protests in support of these classic titles, asserting the right to choose what their children read.
As the controversy surrounding the ban unfolds, it raises questions about the role of censorship in society. Should a government have the power to determine what books are appropriate for young readers? Or should parents and educators be trusted to guide children's reading choices based on their own values and beliefs?
In the world of satire, where exaggeration and humor often challenge societal norms, the ban on these classic children's books appears to be a puzzling and misguided decision. As the literary community rallies to protect the freedom to read and explore diverse perspectives, the legacy of these beloved stories continues to captivate the imaginations of children and adults alike, reminding us of the enduring power of literature.

About Author