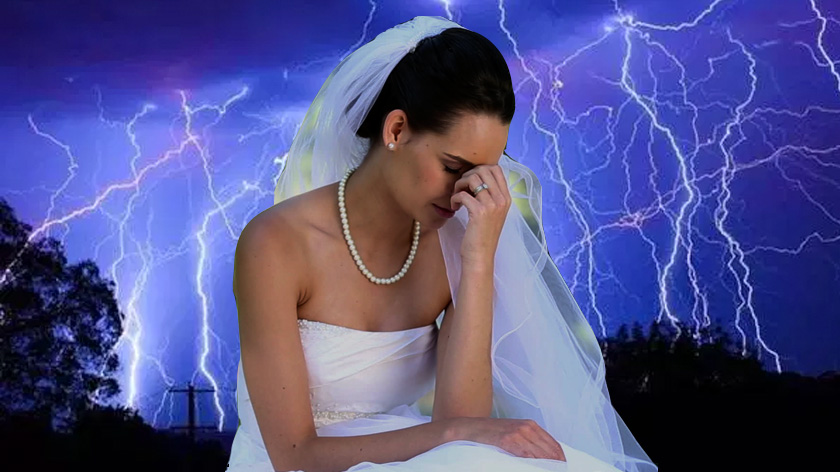 "It was not supposed to happen like this." Jessica Trayler exclusively recounted for us as unexpected thunderstorms rolled through Northern Michigan and disrupted her otherwise fairytale wedding. "I cannot even begin to reconcile this. I prayed for months that we would have clear weather on my wedding. It feels like a divine betrayal."
Trayler's sense of supernatural failure has resounded so deeply that she has not been to church in two months. "My faith has been shaken to the core. I don't even know what to do. I don't even ask for much.  In the last year, my only prayers of petition were for the normal day to day stuff that I need to sustain my lifestyle. I prayed for a new Mercedes, the latest Dolce and Gabana handbag, pumps to match, a raise at work, that my Cinderella wedding is not ruined by rain, and some other nickel and dime things here and there."
Curiously, I asked how many of those prayers did she believe were answered?  She felt she got railroaded with the base model package of Mercedes and the wedding debacle, but otherwise God came through like a champ. "I just can't let this go, you know? Little girls live out their wedding fantasies over and over again throughout their life. We dream of walking down the aisle to say 'I do' to our very own Prince Charming. I hope that one day I can move past this affair, but not right now. It is too raw."
Oddly, I checked the weather patterns of Northern Michigan during the months that Jessica and her husband wished to exchange vows outside, and—no pun intended—that time of year is particularly saturated by inclement weather. Obviously, miracles do happen but one must wonder if the Traylers needed a miracle or just a simple weather report and some common sense.
Nonetheless, Mrs. Trayler feels this betrayal in her bones and has vowed acts of disobedience of the variety that she has restrained herself from since about two years ago when she did not get that puppy dog for Christmas.  "I will skip church and go shopping.  Sometimes you just have to treat yourself when no one else will."
There you have it.  You can find Jessica Trayler at the Wirebridge Mall in the shoe department on Sundays in lieu of church service.