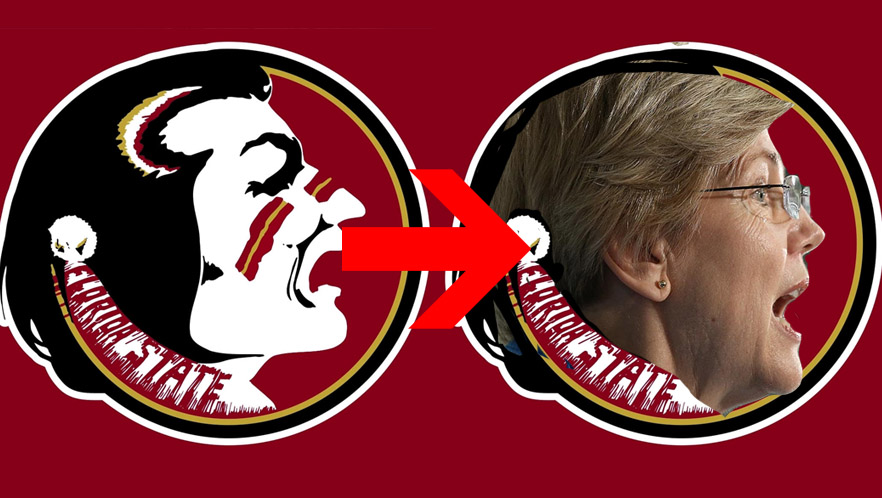 With the college championship game being dominated by teams whose mascots are the vicious predators known as the tiger, many academics, politicians, & media pundits are demanding that colleges change their mascots to focus on issues that matter to them. Under political pressure, colleges will now be replacing traditional mascots with Social Justice Warrior Causes or politically correct terms.
The Alabama Crimson Tide will now be the Multi-Colored Wave.
The Arkansas Razorbacks will now be the Asa's Refugees in honor of the Governor who wants to try yet another refugee resettlement program.
The Auburn Tigers will soon be the Auburn Don't Burn Coal Protesters.
The Florida Gators are now the Save the Wetlands Coalition while the Florida State Seminoles are now the Florida State Elizabeth Warrens.
The Iowa Hawkeyes are Iowa Visually Impaired.
The Nebraska Cornhuskers are now the Nebraska Ethanols.
The North Carolina Tar Heels are now the North Carolina No Fossil Fuelers.
Notre Dame's Fighting Irish are now the Notre Dame Oppressed by English Pacifists.
The Oklahoma State Cowboys will have to be changed to the Oklahoma CowSisBiQueerTransTheyXs and other genders to be added later.
The Oregon Ducks are now the Oregon Helpless Animals Killed by Evil Assault AR15 Shotguns.
The Ole Miss Rebels will not have a name change and will simply be banned from playing in college football.
The Syracuse Orange is obviously the Orange Man is Bad while the Tennessee Volunteers are now the Tennessee Non Profit NGOs.
The Texas Longhorns are now the Texas Tofus.
The UNLV Rebels have also been banned as have the UMass Minuteman who remind too many snowflakes of who created the oppressive USA.
As for the championship teams from LSU and Clemson, they will be known as Sorry for Winning 1 and Sorry for Winning 2, regardless of performance during the next college football season. All players will get the Heisman Trophy.
More name changes will be issued soon.