2023 Tournament of Disgraced Government Agencies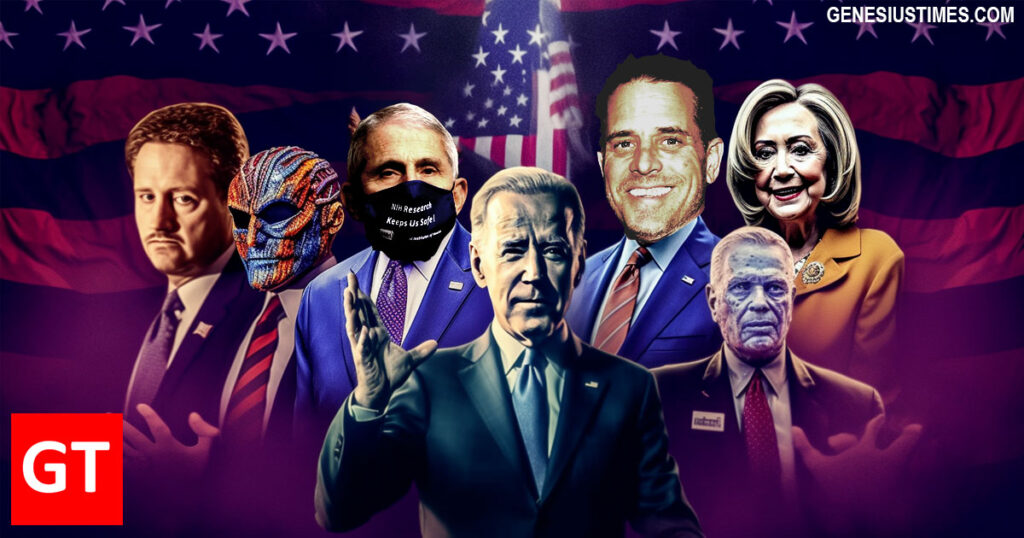 The 2023 Tournament of Disgraced Government Agencies features four brackets, loaded with incompetence and corruption. Cast your vote below or on Twitter for these scintillating first round matchups, winners advance to the next round in a single elimination format, each vying for the coveted title of Most Disgraced Government Agency.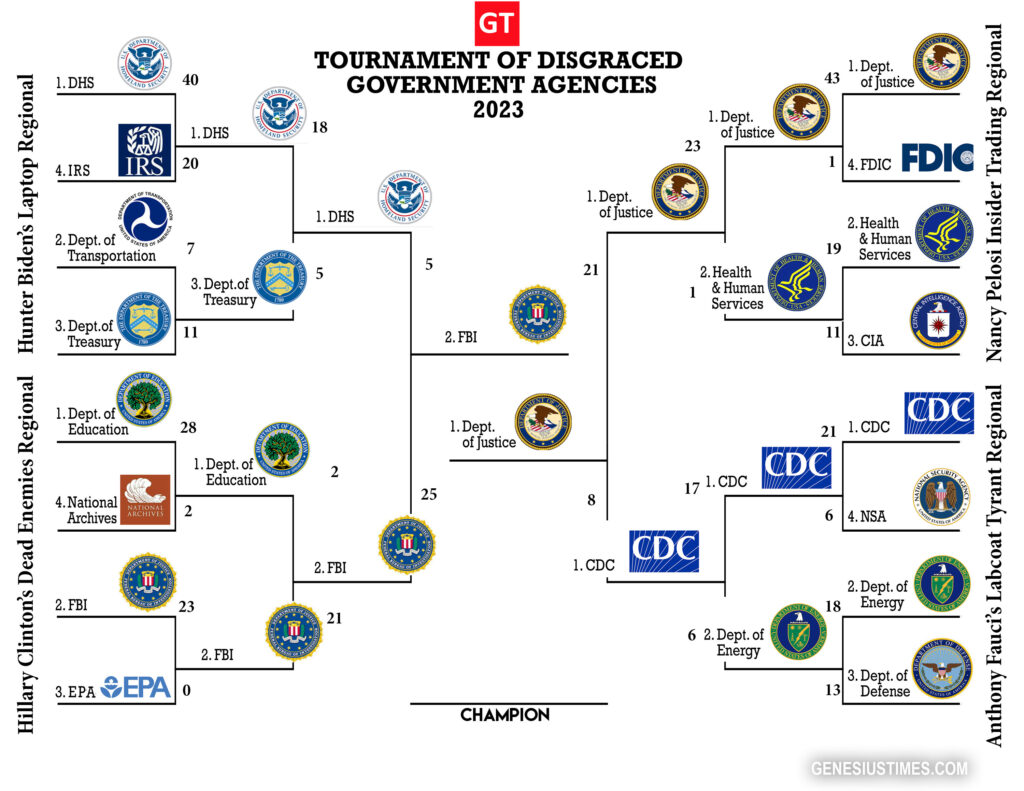 The Foul Four had two big blowouts again. These agencies are so disgraced that one's a part of the other, so clearly the seeding committee did a good job. The question becomes is there anything redeemable in the Department of Justice or is it more disgraced than its subsidiary the FBI? Vote now!
Hunter Biden's Laptop Regional
1. Department of Homeland Security: Top overall seed in the tournament. Led by Alejandro Mayorkas, all-time leader in illegal crossings and fentanyl deaths.
2. Department of Transportation: DOT racked up an impressive list of train disasters while searching for racist roads, despite numerous months of family leave for South Bend transfer Pete Buttigieg. On the plus side, he's gay.
3. Department of the Treasury: Led by government lifer Janet Yellen, champion of the modern monetary theory that's bankrupting your children. Also very interested in public meetings with Zelensky for some reason.
4. Internal Revenue Service: Had some down years after Hall of Shame member Lois Lerner's departure, but landed a strong recruiting class of 87,000 new agents.
Hillary Clinton's Dead Enemies Regional
1. Department of Education: Unmatched legacy of failure, anchored by a veteran lineup of Teacher's Unions. Accomplishments include school shutdowns, massive learning gaps and the invention of racist math.
2. Federal Bureau of Investigation: No drop off in partisanship, even with the departure of legendary hacks Comey, McCabe and Strzok. Russia collusion was fake, but the laptop was real? Mercy.
3. Environmental Protection Agency: Instrumental in kneecapping energy independence through crippling regulations.
4. National Archives Administration: Darkhorse that emerged from obscurity to help skew midterm elections. If only Trump had just left those documents with a Corvette.
Anthony Fauci's Labcoat Tyrant Regional
1. Department of Justice: Led by Merrick Garland, still salty about not getting that Supreme Court gig, Garland doesn't care much about Antifa or BLM rioters, but God help you if you took selfies in the Capitol on January 6th, or complained at a school board meeting.
2. Department of Health and Human Services: Pivotal role in Covid policy failure. Woke hire Rachel Levine continues to impress. Looks great in a bikini, too.
3. Central Intelligence Agency: Always a strong contender, who else could hide their role in the Kennedy assassination for six decades?
4. Federal Deposit Insurance Corporation: Saving depositors at leftist woke banks, while maintaining a callous indifference toward the regional banks of flyover country.
Nancy Pelosi Insider Trading Regional
1. Center for Disease Control: Led by policy doofus Rochelle Walensky, one of the least credible members of the entire DC cabal. CDC fills the final top seed by getting literally everything wrong about Covid.
2. Department of Energy: Pivotal role in implementing the Green New Deal, Holy Grail to diminish America's standard of living and micromanage every aspect of your life.
3. Department of Defense: Strong finish to the season despite missed recruiting goals and a drag queen spokesman. Received much notoriety for arming the Taliban, stay hot.
4. National Security Agency: You don't even know what they do, but they know what you do.

About Author