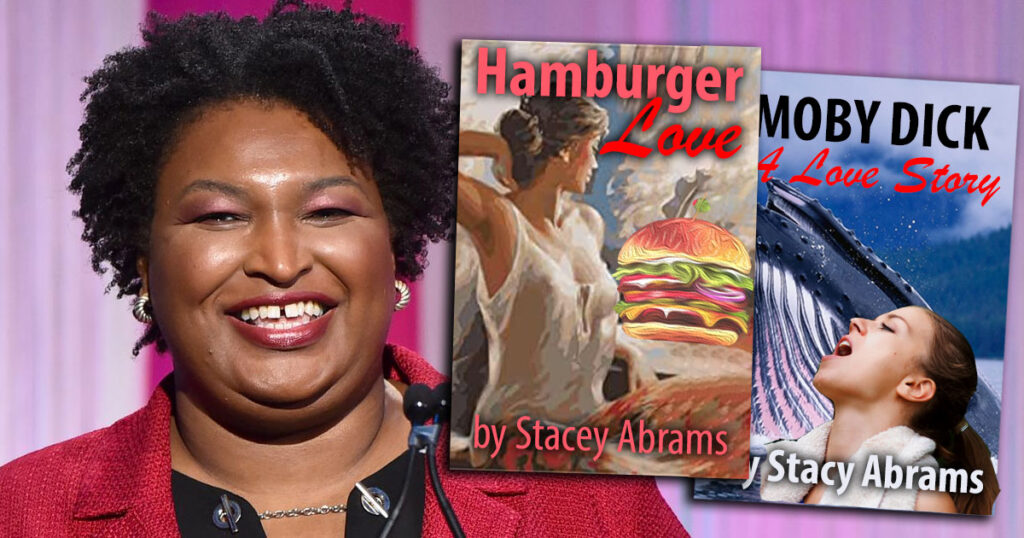 ATLANTA—Before she ran for governor of Georgia, before she registered 800,000 dead voters with her organization Fair Fight, before she became a Democratic power broker with her name perennially in the mix for high-level political positions, Stacey Abrams wrote thirsty romance novels.
Now, her first three books, originally printed about 20 years ago, will be reissued in 2022 by the publisher Twerkley, an imprint of Penguin Random House.
The racy novels include "Hamburger Love", "Screwing America", and "Moby Dick: A Love Story".
"As my first novels, they remain incredibly special to me," said Abrams in a statement. "The characters and their adventures are what I'd wished to read as a young black woman who loves to eat … a lot."
The books have been out of print for several years since no one had any interest in her writing until they were forced to.
"Hamburger Love" is about a woman torn between the love of herself and that double bacon cheeseburger sitting on her counter.
"Screwing America" is about a woman who is driven to screw America at all costs.
"Moby Dick: A Love Story" is about a fat-positive woman's love affair with a blue whale.