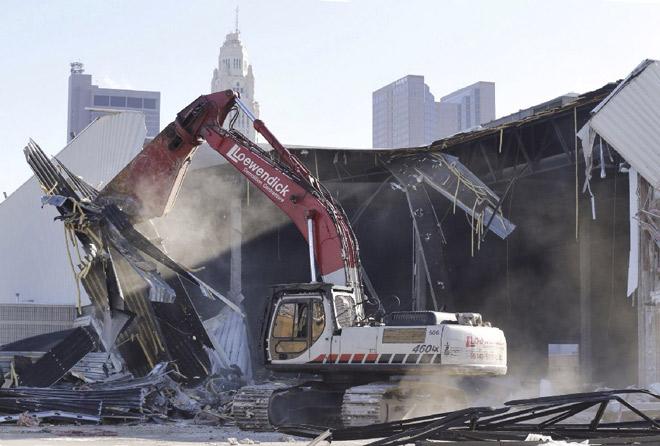 Columbus, OH—207 years after its founding, activists have started tearing down buildings and dismantling the transportation system as a way to repair the harm done by Christopher Columbus more than 500 years ago.
"Can you get more evil than Christopher Columbus?" activist Sara Fleener said. "Imagine if your city was named Hitlerville or Trump, Ohio. You'd want it torn down too."
To many of its nearly 900,000 inhabitants, any mention of the explorer who discovered America is too much to bear. And so they've decided to wipe the capital city off the face of the earth.
"It's the right thing to do," said Mayor Andrew Dinther, who cheered as a wrecking ball slammed into the side of the Leveque Tower Residences, an art deco skyscraper from the 1920s. "I mean, sure it's a perfectly functioning city, but knowing that it stands for slavery and genocide—I just can't."
Some residents are upset by the decision to annihilate their home. "It just seems like a waste of a lot of buildings and things," said native Colmbusite Sam Greeley. "But, I guess it makes sense because diversity and inclusion and stuff."
There had been talk of preserving Hot Chicken Takeover since their drummies are "super frickin' good," but the planners said even that has to go.
"Don't get me wrong, I love the Double Ma's Mac," said activist Felicity Sparks, "but I can totes do without comfort food if we can show how much we hate ourselves."
At writing, efforts were being launched to destroy all 1,569 cities, towns, counties, states, monuments, roads, rivers, and landmarks in America that were named for the 15th century explorer.