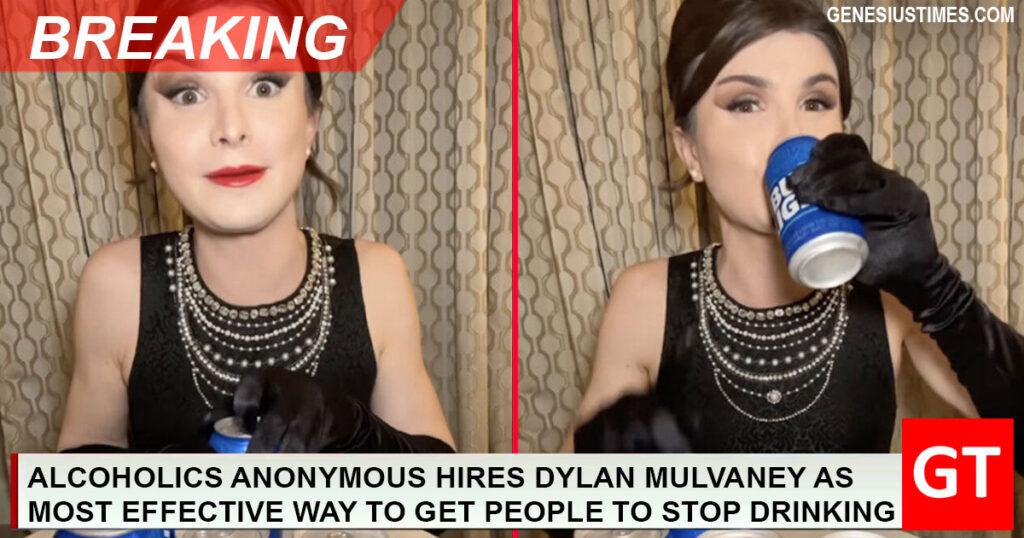 In a groundbreaking move, Alcoholics Anonymous (AA) has announced that they have secured the sponsorship of every major beer company in the world for their new campaign aimed at getting people to stop drinking.
The campaign centers around Dylan Mulvaney, the brave trans activist that Bud Light hired to get everyone to stop drinking their beer. According to AA, Mulvaney is a shining example of what can be achieved with the right support.
To promote their message, the beer companies have agreed to fund a national ad campaign featuring Mulvaney, pushing gender ideology on everyone who wants to drink beer. The ads will air during prime-time television slots and on social media platforms, with the aim of reaching as many people as possible.
"We believe that Dylan's story is a powerful tool in the fight against alcohol addiction," said an AA spokesperson. "By partnering with beer companies, we are able to spread our message to a wider audience and hopefully help more people to give up alcohol for good."
But not everyone is convinced by the campaign. Critics have pointed out the inherent conflict of interest in having beer companies sponsor an anti-alcoholism campaign, and have accused AA of selling out their principles.
"Is this really the best way to tackle alcohol addiction?" asked one commentator. "It seems like a cynical ploy to make money rather than a genuine attempt to help people."
Despite the criticism, AA remains committed to their campaign and to Mulvaney's message. They believe that by working with beer companies, they can reach people who might not otherwise seek help for their addiction.
"We understand that this may be controversial, but we believe that it's important to get our message out there," said the spokesperson. "We hope that Dylan's constant association with beer can inspire others to give it up."

About Author