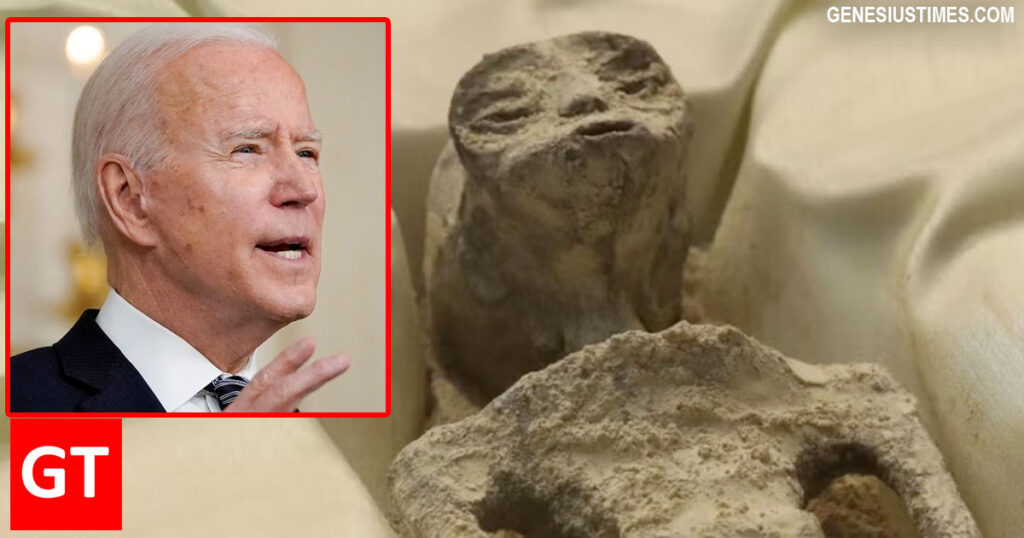 WASHINGTON, DC—In a move that has raised eyebrows across the galaxy, President* Joe Biden has announced an unprecedented immigration incentive program aimed at ancient mummified aliens in Mexico. Under the new policy, these enigmatic extraterrestrial visitors will receive not only free healthcare but also a generous monthly stipend of $6,000 if they choose to make the United States their new home.
The President made the announcement during a press conference at the White House, flanked by perplexed members of his administration. "We've always been a nation that values diversity," Biden proclaimed, "and that includes embracing those who may be a bit, well, 'long in the tooth,' so to speak."
The ancient mummified aliens, whose existence has long been the stuff of legend and conspiracy theories, were recently discovered in the depths of a Mexican archaeological site. Their arrival in the United States marks a historic moment in interstellar diplomacy and immigration policy.
Under the ambitious program, these ageless beings will receive free healthcare, which includes treatments for any conditions related to prolonged periods of dehydration and millennia spent underground. Additionally, they will be provided with a monthly income of $6,000 to support their reintegration into modern society, or perhaps to fund their plans for a new pyramid-based venture, and the option to attend Area 51 University for continuing education.
While some immigration experts have praised the program for its innovative approach to inclusivity, others have raised practical concerns. "We're talking about individuals who may have difficulty with dental checkups due to their extensive bandages," commented one skeptical analyst. "And I'm not sure our hospitals are prepared for the unique dietary needs of long-deceased petrified mummies."
In response to these concerns, the White House has assured the public that all aspects of the program are being carefully considered. "We've consulted with the finest Egyptologists and sci-fi enthusiasts to ensure a smooth transition," Biden assured the nation. "And our healthcare professionals are undergoing specialized training in 'ancient alien ailmentology.'"
As news of the program spreads, it has sparked a renewed interest in ancient extraterrestrial cultures, with some Americans expressing a desire to learn from their new mummified neighbors. Courses in hieroglyphics, pyramid construction, and advanced space-time travel are reportedly in high demand.
In his closing remarks, President Biden reiterated the importance of unity and intergalactic harmony. "In America, we've always welcomed illegal aliens" he declared. "Now, we're just adding a few more layers to that, including layers of wrappings."

About Author