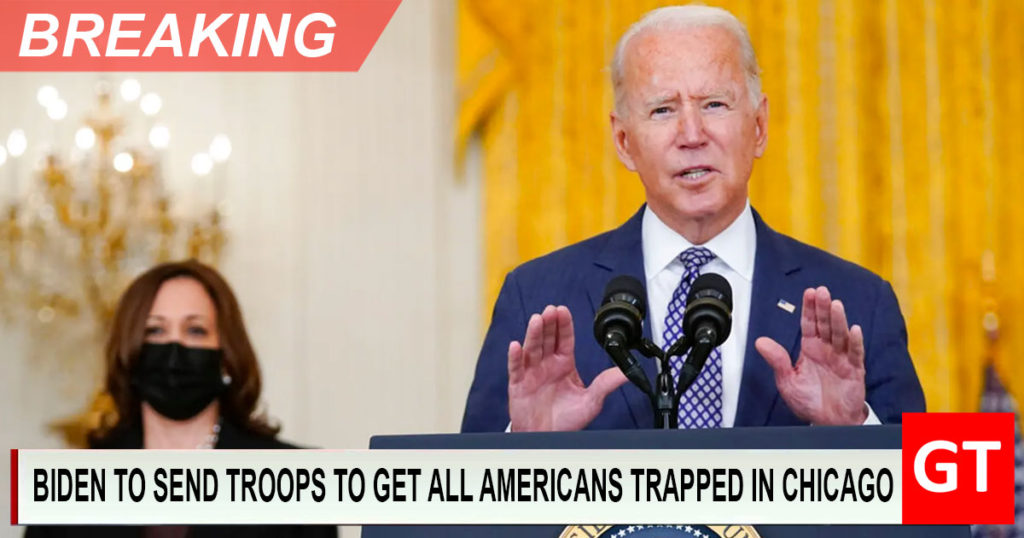 WASHINGTON, DC—President* Biden told Americans stuck in Chicago that the government will bring them back to the U.S. even as it is not sure how many Americans remain in country now controlled by gangs.
"Let me be clear, any American who wants to come home, we will get you out of that hellhole," Biden said.
"Make no mistake, this evacuation mission is dangerous and involves risks to our armed forces. And it's being conducted under difficult circumstances. I cannot promise what the final outcome will be, or what it will be that it will be without risk of loss.," Biden continued. "But as commander in chief, I can assure you that I will mobilize every resource necessary."
Hundreds of thousands of Americans are reported to still be in the city limits of Chicago, which fell to roving gang members earlier this year.
Biden also said that the United States is open to using the military to help Americans unable to get to O'Hare International Airport while simultaneously warning of potential pitfalls in Americans' operation and saying he "cannot promise what the final outcome will be."
Among the unknowns is where there could be gang shootings outside O'Hare, Biden said. He also noted that his administration is not sure of the number of Americans actually in Chicago.
The government is working "to verify the number of Americans still in country as we work on this," the president* said.
"Because we're not, don't know the exact number of people who may have been there, and those who may have come home to the United States." Biden added. "We want to get a strong number as to exactly how many people are there, how many American citizens, and where they are and what time is naptime."
It has been reported that expelled Mayor Lori Lightfoot took millions of dollars in city funds and is hiding out in a hair salon in Gary, Indiana.