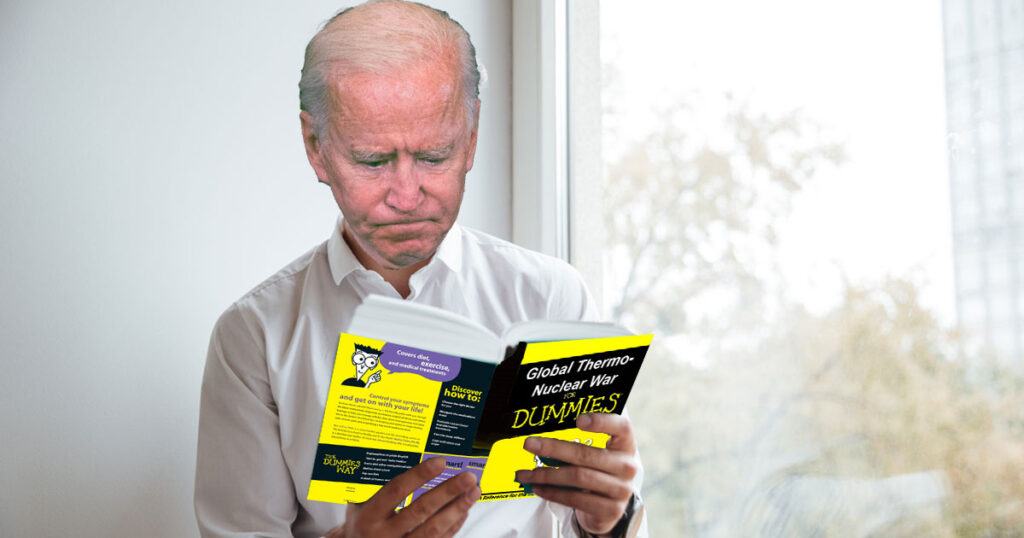 WASHINGTON, DC—US President* Joe Biden was caught reading "Global Thermonuclear War for Dummies" after returning from a European trip aimed at increasing tensions with Russia.
This follows an impassioned speech in which Biden accidentally called for regime change of Russia.
His comment that Russia's Vladimir Putin "cannot remain in power" — an assertion that his aides were forced to quickly clean up — overshadowed his larger message of solidifying the Western coalition that's confronting Moscow for confronting the West.
"Biden is clearly trying to figure things out as he goes," political analyst Sam Eagle said. "It is very promising that he's at least attempting to learn about the complexities of global thermonuclear conflict despite his abysmal IQ."
Sources close to the White House said that he was able to read the first two pages, but later confirmed it was just the first two words.
White House Press Secretary Jen Psaki said that Biden would finish.
"They do a great job explaining a difficult subject to someone with the brain the size of a walnut," Psaki said. "Not that the president has a brain the size of a walnut, but you get the picture."
"He's going to finish the book. Let's just hope he can do it before we all burn up in a fiery nuclear holocaust," Eagle added.
Originally published March 29, 2022.

About Author