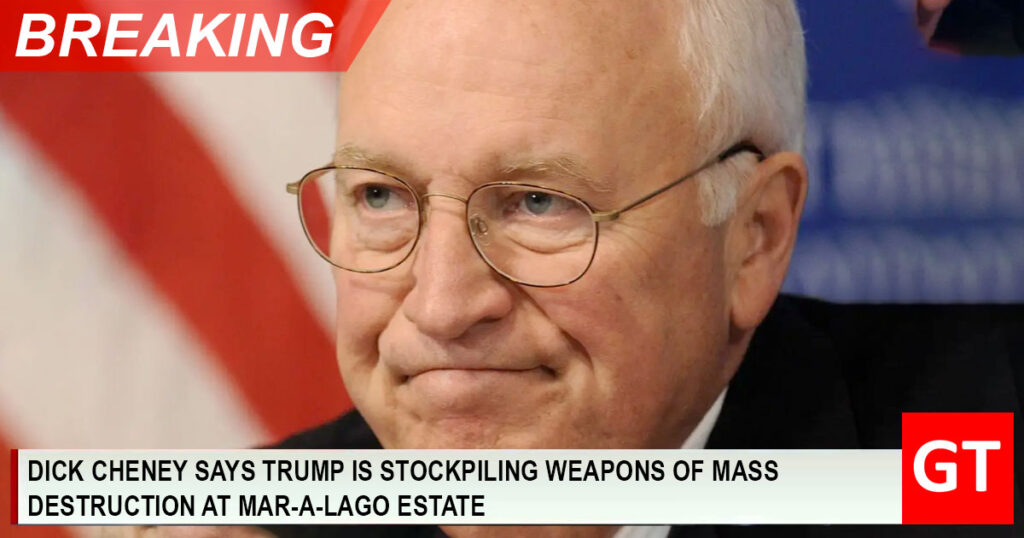 WASHINGTON, DC—Former Vice President Dick Cheney has given his personal guarantee that former President Donal Trump is storing weapons of mass destruction at his Mar-a-Lago estate in Florida.
"Our intelligence operatives have discovered that President Trump has a massive stockpile of biological weapons, capable of killing millions," Cheney said in an exclusive interview with Genesius Times.
"We know that Trump has produced thousands of tons of chemical agents, including mustard gas, sarin nerve gas, VX nerve gas. Trump also has experience in using chemical weapons. He has ordered chemical attacks on his Mar-a-Lago neighbors, and on more than forty villages throughout Florida and Georgia. These actions killed or injured at least 20,000 people, more than six times the number of people who died in the attacks of September the 11th," Cheney said.
Cheney also said that during their recent raid, the FBI obtained records that Trump had secured substantial amounts of yellow-cake uranium and intends to make a nuclear weapon".
"If Trump is left unchecked, he will probably have the capability to make a nuclear bomb by 2024—capable to completely destroy Washington, DC," Cheney warned.
Cheney was forced to leave the interview to go shoot a friend in the face.

About Author