Breaking: Pope Francis endorses Elizabeth Warren for President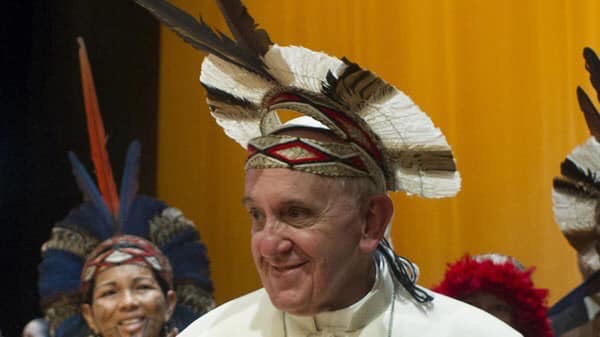 Not one to shy away from political discourse, Pope Francis has thrown his hat—er headdress—into the discussion of who will be America's next president.
At least that's all I am able to assume could be the Pope's motives for posing in a headdress. He loves Pocahontas, aka Elizabeth Warren, the candidate with 1/1024th Cherokee blood and proud of it. The only other explanation for a bizarre photo, making its rounds on social media, of the pope wearing a headdress of an Indian shaman could be some sort of tacit endorsement of paganism, and we know better!
So until the Pope clarifies his motives, and then the Vatican releases a more dogmatic version, followed by a reclarification from his own mouth of his true motives, we will assume Pope Francis has gone full Pocahontas 2020.