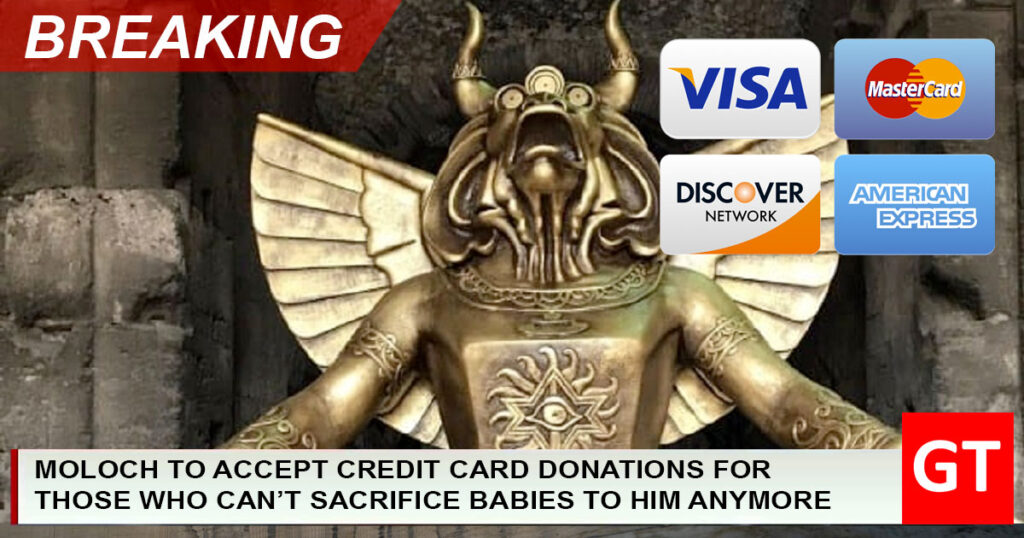 US—In the wake of the Supreme Court of the United States overturning Roe v. Wade, the Canaan god Moloch, known for the child sacrifices to him, will now be accepting credit cards.
"It's a difficult economy right now and, frankly, we need to start diversifying our donation methods," Moloch said in an exclusive interview with Genesius Times.
The cult of Moloch—called Molech—has been sacrificing their children to the bull-headed god for centuries. Cult members used to boiled children alive in the bowels of a big, bronze statue of the god but recently have been performing their sacrifice in much more civilized abortion rituals in medical clinics.
"I think like most false gods, I've seen a huge drop off in donations even before the SCOTUS ruling," Moloch grunted to us. "But since killing babies in several states is quote unquote illegal in several states, we had to start offering other ways Americans can worship me."
Moloch's anthropomorphized bull figure was typically pictured in Rabbinic Judaic texts as a bronze statue internally heated by a fire. It was inside this construct that priests or parents placed their children to be consumed by fire as a sacrificial offering.
Moloch says that he has still been invited to the Democratic National Convention where each presidential candidate will sacrifice a baby to him.
"Oh, let's be clear, sacrificing babies is still the best way to gain my favor, but I understand times are tough and some people will need to look for alternative methods," Moloch added.

About Author