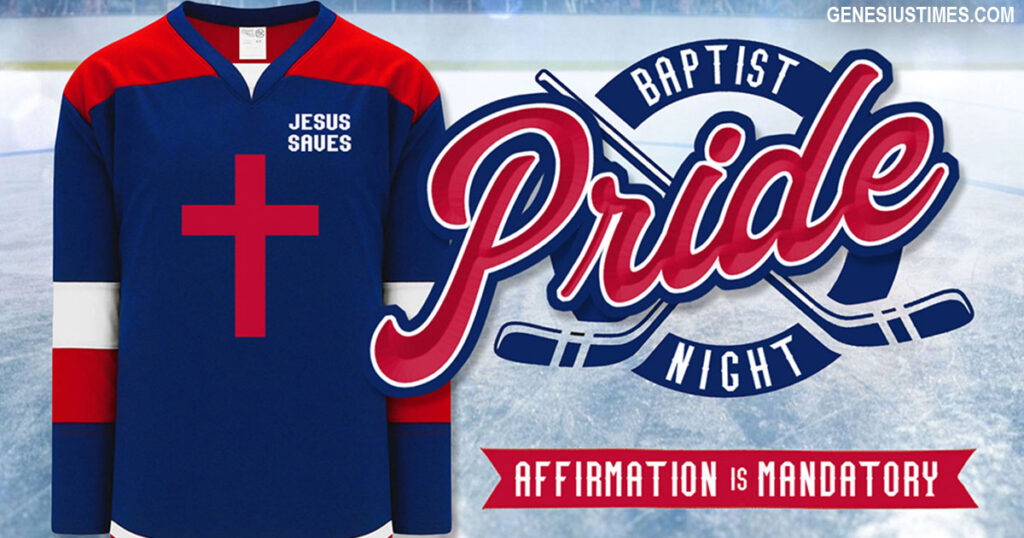 In a stunning move towards diversity and inclusion, the National Hockey League (NHL) has announced the introduction of Baptist Pride jerseys. The jerseys, adorned with vibrant red crosses, are set to hit the ice next season and celebrate the rich diversity of religious beliefs within the league.
"Baptists have been a marginalized group for a long time," said a representative from the NHL. "By showcasing the Baptist Pride jerseys, we hope to promote inclusivity and create a welcoming environment for players and fans of all faiths."
The decision has garnered mixed reactions from fans and players alike. Some see it as a bold step forward, applauding the NHL for recognizing the importance of religious acceptance. Others, however, are scratching their heads, wondering how a professional sports league became a platform for religious expression.
One devout Baptist fan expressed their excitement, stating, "Finally, my faith can be proudly displayed on the ice! I can't wait to see my favorite players sporting the Baptist Pride jerseys and spreading the message of our beliefs to the world."
Critics argue that while diversity and inclusion are vital, mixing sports and religion may be a slippery slope. "I'm all for diversity, but this feels like a bit of a stretch," said one skeptical fan. "Are we going to see jerseys representing every religious group next? I can already imagine the Shinto Shrine Stripes or the Pastafarian Pasta Patch."
The NHL is confident that the Baptist Pride jerseys will create a sense of unity among players and fans. In addition to the jerseys, they have plans for interfaith prayer sessions during intermissions and post-game worship services on the ice.
"We want to create an environment where everyone feels welcome, whether they are fans or players," said the NHL representative. "We hope that by celebrating religious diversity, we can foster a spirit of camaraderie and respect among all those involved in the sport."
While the NHL's decision to introduce Baptist Pride jerseys may raise a few eyebrows, it serves as a reminder that diversity comes in many forms. Whether it's celebrating religious beliefs or embracing other aspects of identity, the pursuit of inclusivity is an ongoing journey—one that sometimes takes us to unexpected places, even the ice rink. So get ready to lace up your skates and support your favorite team as they proudly display their Baptist Pride jerseys. It's time to let the spirit of religious diversity shine on the ice!

About Author