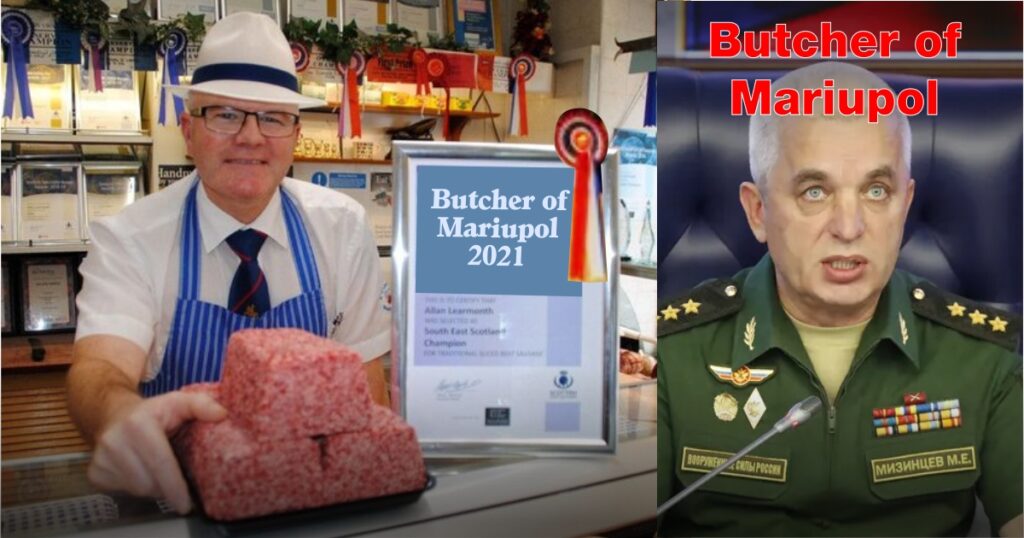 MARIUPOL, UKRAINE—Viktor Morozova has been cutting meat and serving the local community since he was 'only as tall as a rooster' he says. Taking over the butcher shop from his father who started the business in 1979 was a big responsibility and his quality and service has won him the 'Butcher of Mariupol' four years running. Lines at his door start early in the morning and go on throughout the day until he tells them he is going home now to Helga at a quarter to eight.
When the Russians invaded, a month ago and the bombardment of Mariupol commenced two weeks ago he still managed to keep open, albeit shorter hours and still slaughters pigs and cows in the shed.
With the destruction getting worse and the death toll climbing, he says he's not giving up and will feed everyone who needs meat… for free if he has to. He says he understands why the media is calling Russian commander, Col. Gen. Mikhail Mizintsev the Butcher of Mariupol but wishes they would pick a different moniker… maybe the "Wood Chipper" or "Kitchen Blender of Mariupol", as he had spent his whole life working up to his title.
Till the war is over though, he says he will not stop hacking his way through meat and if the Russians get in his line, he will hack them too.

About Author