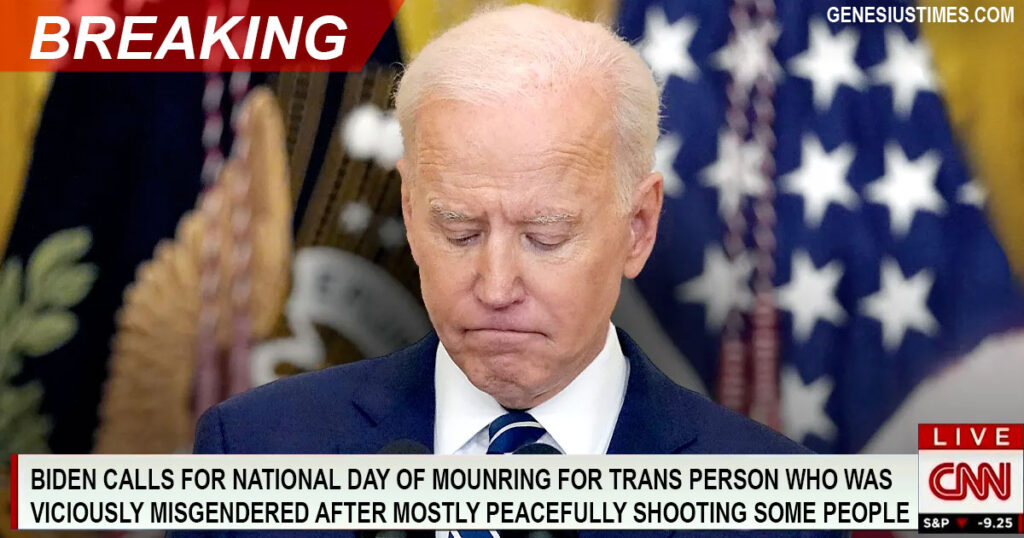 (CNN) WASHINGTON, DC—President* Joe Biden has announced that he will be calling for a national day of mourning for Audrey Hale, a trans person who was viciously misgendered shortly after mostly peacefully killing some people. According to sources close to the president, the move is part of his administration's ongoing efforts to promote transgender rights and combat discrimination against the trans community.
"It is a dark day in our history when people would knowingly misgender someone who was just trying to exist. I will direct all the resources possible to prosecuting the perpetrators of this horrible crime!"
Hale was reportedly misgendered by a prominent media outlet in a recent news story about them shooting some people. The misgendering caused widespread outrage among the trans community and their allies, who criticized the media outlet for perpetuating harmful stereotypes and disrespecting the person's gender identity.
In response to the incident, President Biden has called for a national day of mourning to honor Hale and raise awareness about the harm caused by misgendering. The day of mourning, which will be observed across the country, will feature a variety of events and activities designed to promote tolerance and understanding of the trans community.
According to a statement from the White House, the day of mourning will include a candlelight vigil, a series of educational workshops, and a keynote speech by a prominent trans activist. The statement also called on all Americans to "recognize the importance of respecting people's gender identities and to stand in solidarity with the trans community in their fight for equality and justice."
Supporters of the president's decision argue that it is an important step towards promoting tolerance and understanding of the trans community. "Misgendering is the worst form of violence," said one trans activist. "It's important that we take a stand against it and recognize the harm it causes. This day of mourning is a powerful symbol of our commitment to fighting for trans rights and equality."
So on this national day of mourning, let us all remember Audrey Hale who was viciously misgendered and honor their memory by working towards a more tolerant and inclusive society for all.