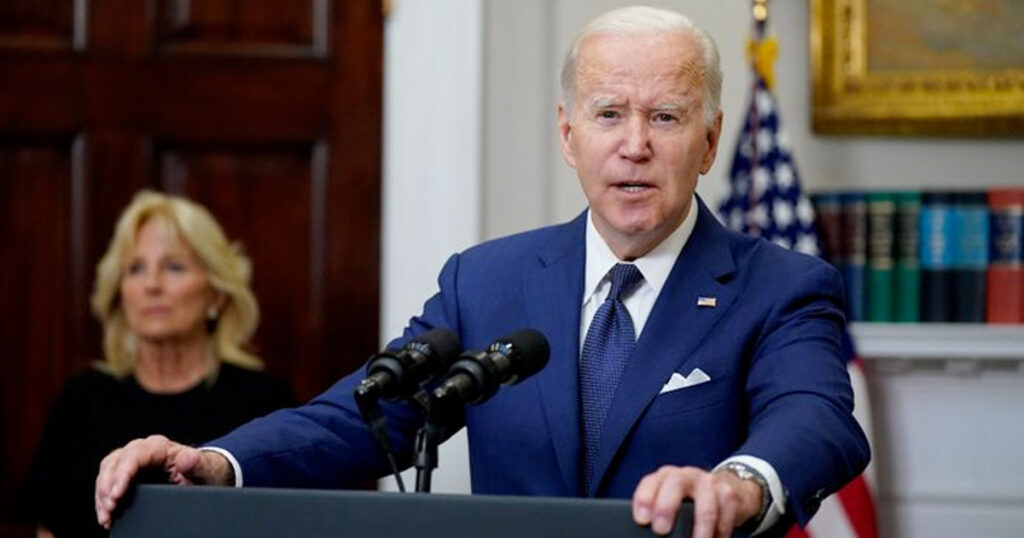 UVALDE, TEXAS—President* Joe Biden paid respects to the families of 19 students and two teachers slain during a mass shooting at a Texas elementary school, asking, "How many false flag shootings have to happen until you give up your rights?"
The shooting marked the second false flag attack in as many weeks and federal agents have promised to continue with more attacks until Americans decide to give up their right to self-defense.
Outside Robb Elementary School, Biden stopped at a memorial of 21 white crosses — one for each of those killed — and the first lady added a bouquet of white flowers to a pile in front of the school sign. They viewed individual altars erected in memory of each student, and the first lady touched the children's photos as the couple moved along the row.
When asked whether taking rights away justified the federal government facilitating false flag shootings, Biden said yes.
"These shootings are horrible and senseless and will not stop until law-abiding citizens give up their rights," Biden said.
Biden said the FBI will stop radicalizing and funding psychopaths in order to kill innocent people when they can be sure the populace are helpless against tyranny.
"Our number one threat right now is people thinking that they don't need us," FBI Director Christopher Wray said. "That's why we've assigned several agents to investigate the parents who wanted to do something while the police let the Uvalde shooter kill 21 people."

About Author