Biden warns that democracy is being threatened by too many people participating in democracy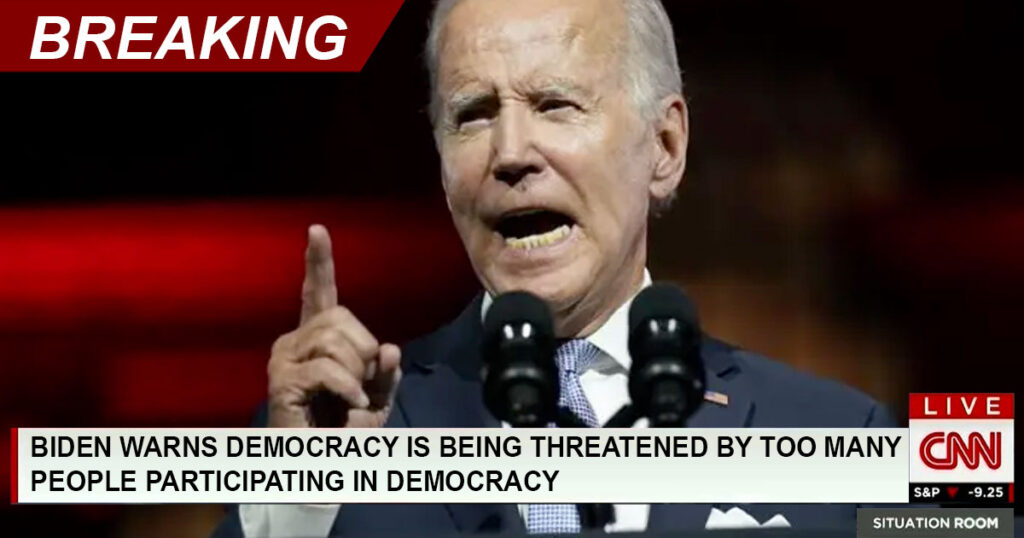 WASHINGTON, DC—President Biden has warned the country that democracy is being threatened by too many people participating in democracy. Biden cited an FBI report that stated that millions of people actually want an alternative to his one party rule.
The FBI, having previously preserved democracy by failing to charge Lois Learner for her illegal weaponization of IRS, and failing to approve conservative applications for tax exempt status. If you have not followed that story a miraculous chain of events rendered multiple phones, hard drives, computers and even backups destroyed making prosecution impossible.
Later the FBI helped to protect democracy by fabricating false claims against a duly elected President with the intent to stymie the administration and limit its ability to fundamentally restore democracy to the American People from the deep state.
Democracy took the form of paying foreign actors, colluding with democrat candidates and creating false reports which were then used to lie to FISA judges to gain warrants in order to spy on the President of the United States.
In the run up to the 2020 election the FBI also worked hard to protect democracy by colluding with big tech and social media to silence news of Hunter Biden's many illegal business deals, including money laundering and of course 10% for the big guy.
The FBI then immediately provided support to preserve democracy by stated that the election was the most secure election ever in the history of the world within moments of the election being called for Biden despite substantial evidence of elected officials making up rules, breaking election laws, ballot harvesting mules and multiple batches of ballots having been scanned more than once.
So, watch out this election for those Pesky Republicans. who might actually win the election and restore democracy.