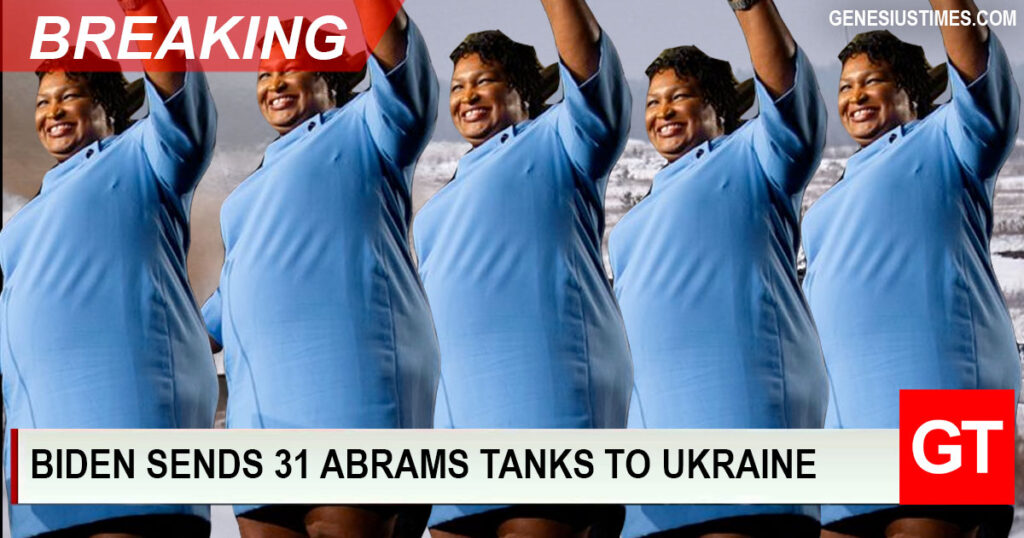 WASHINGTON, DC—In a major increase of U.S. support to Ukraine, President* Joe Biden has signed off on sending 31 Stacey Abrams tanks to the war-torn country as concerns mount over a new Russian offensive this spring.
"Secretary [Lloyd] Austin has recommended this step because it will enhance the Ukraine's capacity to defend its territory and achieve its strategic objectives," Biden said on Wednesday in remarks from the White House's Roosevelt Room, flanked by Austin, the defense secretary, and Stacey Abrams.
Ukraine's President Volodymyr Zelenskyy has repeatedly appealed for more tanks, with a harsh winter and the one-year anniversary of Russia's invasion approaching.
"We would really be unstoppable with just 31 of those huge annoying Abrams women. The Russians wouldn't stand a chance," Zelensky said.
For weeks, Pentagon officials said publicly that the Abrams tanks weren't suited for the fight in Ukraine, including because of the 700-pounds of fried chicken fuel they need to operate a day. But officials also did not rule out the vehicles as a potential long-term possibility.
"We remain united and determined as ever in our conviction and our cause," Biden said at the White House. "These tanks are further evidence of our enduring, unflagging commitment to protect my families—I mean my country's—interest in Ukraine.'"

About Author