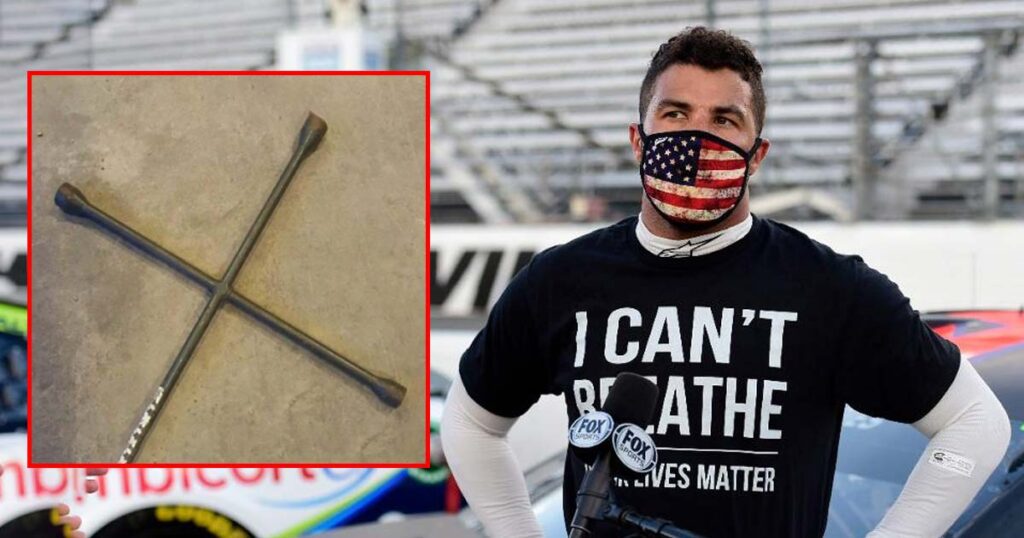 TALLADEGA–A burnt cross was found in the garage stall of a black NASCAR racer, Bubba Wallace, less than two weeks after the only Black driver in the competition led calls for the removal of Confederate flags from racetracks.
Giving a tearful interview wearing a facemask and a shirt that stated the side effects of the face mask, "I Can't Breathe," Wallace explained the horror:
"Today's despicable act of racism and hatred leaves me incredibly saddened and serves as a painful reminder of how much further we have to go as a society and how persistent we must be in the fight against racism."
This followed Wallace's discovery of a noose in the same garage stall.
He added: "As my mother told me today, 'They are just trying to scare you.' This will not break me, I will not give in nor will I back down. I will continue to proudly stand for what I believe in." Wallace also said he had received overwhelming support from people in the industry over the last few weeks.
Experts noted that the burnt cross miraculously worked very well as a 4-sided wrench and the noose was conveniently made to pull down the garage doors of each of the car stalls.
"That just goes to show you how racist people can be. They went out of their way to make a burnt cross out of tempered steel that is capable of taking lug nuts off of NASCAR vehicles. It's simply disgusting," Wallace said.
Wallace is considering taking some time off of the circuit and staying with his cousin Jussie Smollett.

About Author