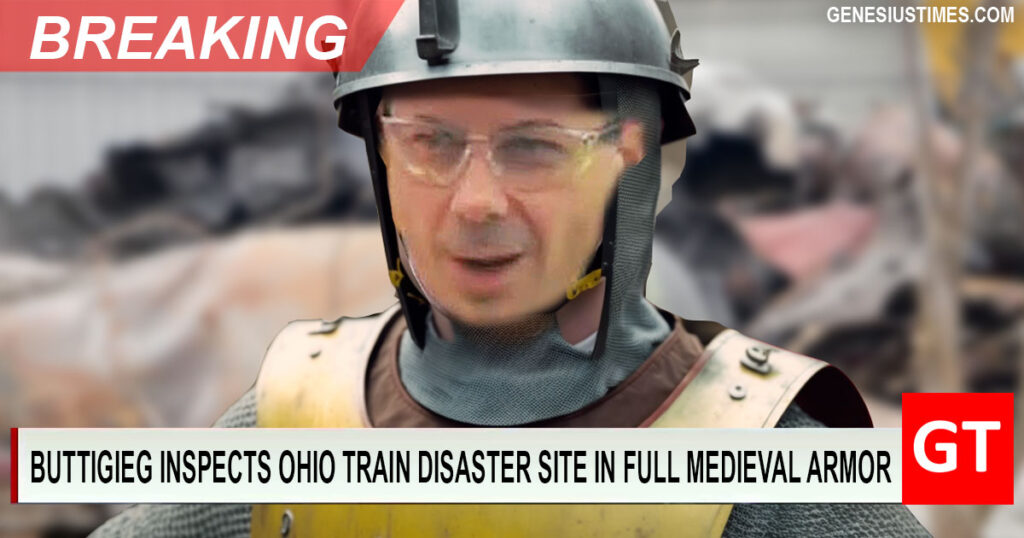 Former mayor and current Secretary of Transportation Pete Buttigieg made headlines recently when he was spotted wearing an unusual form of personal protective equipment (PPE) at a press conference at the East Palestine, Ohio train disaster site. Instead of the usual masks and gloves, Buttigieg was sporting a full suit of Medieval armor.
When asked about his choice of PPE, Buttigieg explained that he was taking the threat of vinyl chloride seriously and wanted to make sure he was protected from all angles.
"I'm not taking any chances when it comes to my health and safety," said Buttigieg. "Those chemicals we intentionally ignited are a serious threat, and I'm going to do whatever it takes to protect myself."
However, experts in the medical community were quick to point out that Buttigieg's Medieval armor was not an effective form of PPE against the toxins dispersed in the incident.
"Medieval armor was not designed to protect against ignited vinyl chloride," said Dr. Emily Chen, an infectious disease specialist. "It's a completely inappropriate form of PPE for the situation we're facing."
Despite the criticism, Buttigieg remained resolute in his decision to wear the armor.
"I understand that some people may not agree with my choice of PPE, but I'm going to do what I think is best for my health," said Buttigieg. "And if that means wearing a suit of armor, then so be it."