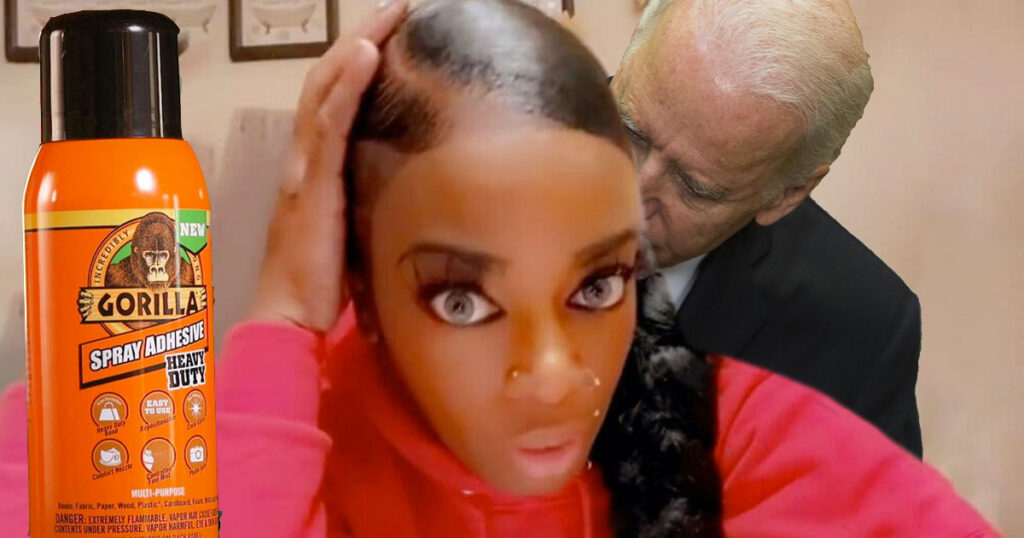 BATON ROUGE, LA—TikToker Tessica Brown thought she had seen the end of her problems after uploading a video in which she made the jaw-dropping revelation that she put the glue product marketed as Gorilla Spray Adhesive in her hair and ponytail to keep the styling in place.
Following multiple unsuccessful attempts to wash out the glue, she had to go to the emergency room where they too were unsuccessful at removing the adhesive.
That's when President Joe Biden came to town to offer his support to the victim of the racist glue.
Biden was unable to resist the urge to sniff the woman and was instantly and permanently attached to her.
White House medical staff have tried everything they could think of to separate the president from Brown without sawing his face off to no avail.
In a new video Brown repeatedly says, "My hair, it don't move," meaning that her hair has remained hard and stuck to her scalp since she sprayed it with Gorilla glue. "Now I got this creepy old white man stuck to my head. This is the worst."
Brown has some advice for everyone following her story:
"Do NOT use Gorilla Glue for hairspray if you intend to visit the White House!"