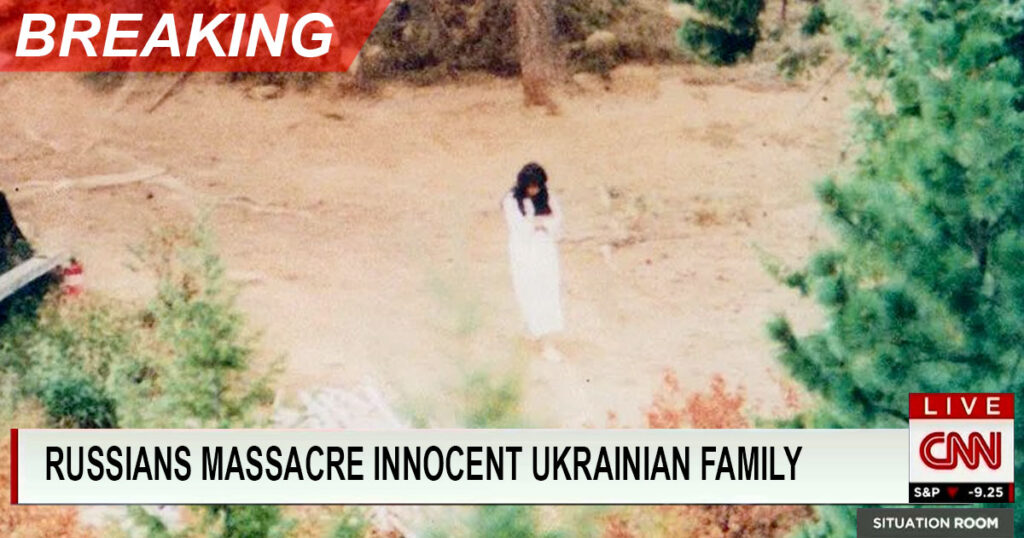 KYIV—Russians have brutally massacred an innocent Ukrainian family for no reason as shown in a surveillance video.
US President* Biden said that crimes like these will not go unpunished.
Just kidding, that was the American Gestapo killing an American family at Ruby Ridge, Idaho in 1992.
Ruby Ridge was the site of an eleven-day siege in 1992 in Boundary County, Idaho, near Naples. It began on August 21, when deputies of the United States Marshals Service (USMS) initiated action to apprehend and arrest Randy Weaver under a bench warrant after his failure to appear on firearms charges. Weaver refused to surrender, and members of his immediate family, and family friend Kevin Harris, resisted as well. The Hostage Rescue Team of the Federal Bureau of Investigation (FBI HRT) became involved as the siege developed.
During the USMS reconnoiter of the Weaver property, six U.S. Marshals encountered Harris and Weaver's 14-year-old son, Sammy, in woods near the family cabin. A shootout took place. Deputy U.S. Marshal William Francis Degan, Sammy Weaver, and the Weavers' dog, Striker, all died as a result. In the subsequent siege of the Weaver residence, led by the FBI, Weaver's wife Vicki was killed by FBI sniper fire. All casualties occurred in the first two days of the operation. The siege and standoff were ultimately resolved by civilian negotiators. Harris surrendered and was arrested on August 30, while Weaver and his three daughters surrendered the next day.
Randy Weaver and Kevin Harris were subsequently arraigned on a variety of federal criminal charges, including first-degree murder for the death of Degan. Harris was acquitted of all charges, and Weaver was acquitted of all charges except for the original bail condition violation for the firearms charges and for having missed his original court date. He was fined $10,000 and sentenced to eighteen months in prison, credited with time served plus an additional three months, and released after sixteen months.

About Author