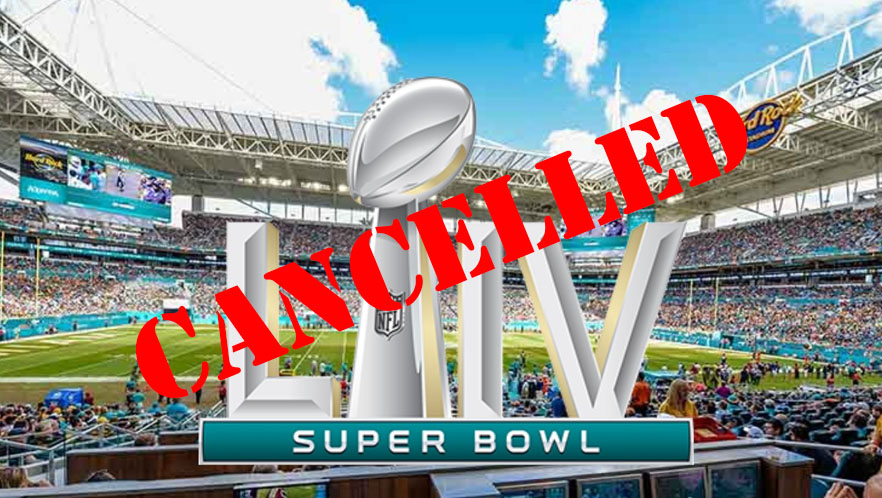 Dire climate change predictions have put the entirety of South Florida under water and while these predictions haven't come close to becoming reality, that hasn't stopped the NFL from cancelling the Super Bowl scheduled to take place in Miami on February 2 in an effort to get people who don't care about the sensational claims of climate alarmists to care.
In a new report from Sports Illustrated, their world-famous Climate Science Dept. has issued new warnings that have sports fans worldwide clamoring for action. According to the head of their esteemed Climate Science Dept., Professor Deesiz Bullshite, "The world has no choice but to move all sports arenas in the US to Denali Park and all European and Asian venues to the Himalayas. Sure it's chillier up there but totally worth it." Northface and Under Armor have promised financial support.
Dr. Bullshite explained there are so many sports parks located on land we either had to make them floating stadiums, in geosynchronous orbit, 5 miles underground or move them to higher ground. We chose 15,000 feet because we just don't know high the oceans will advance. Climatologists all agree the United States will soon be underwater, the date having been moved up to precisely coincide with President Trump's 2021 Inauguration Speech.
The Dolphins Climate Science Department has published numerous papers outlining how Hurricanes and Tropical Storms are now hitting Florida during the Summer. "We've never experienced this; unprecedented. We've seen almost 1/4″ more rainfall this year which makes Hard Rock Stadium basically unusable." Fortunately, South Korean 'previously capsized' Ferries and William Morris will provide transportation and Mermaids to assist.
We've lucked out this year as we've just landed a deal with the company that makes all those little white bags of silica to keep pills dry but so annoying every time you try to get a pill and instead that stupid thing falls out. Hard Rock Stadium will now strap a bag of Damp-Rid around each attendee and have them wear a specially designed Dry-Silica Superbowl LIV hat. Though toxic to humans, it will keep things dry and keep the Coke stands busy.
The Yankee organization has signed on to the new rules promulgated by US Representative Alexandria Ocasio-Cortez (D-NY) and the Communist Catastrophic Climate Collapse Committee, building an impregnable 50-foot concrete barrier surrounding the stadium should the seas surrounding New York rise 49 feet by this summer as predicted. Though no entryways have yet to be constructed AOC will be introducing legislation to begin construction of a submarine station at the planned entryway. When asked why, AOC explained, "Cause we don't want people injured while swimming to the baseball games".

About Author