BREAKING: Trump indictment includes charge that he failed to return a Blockbuster VHS tape in 1993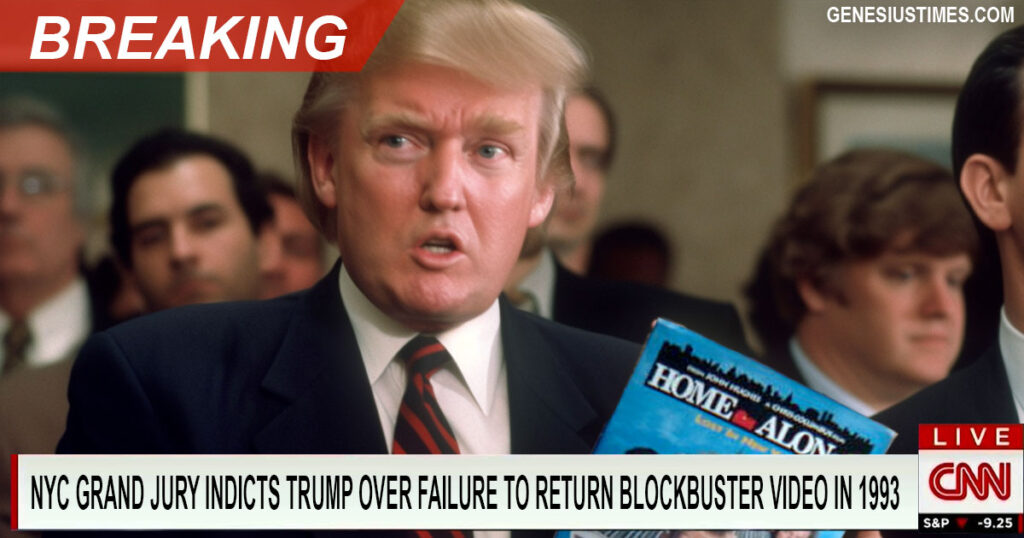 NEW YORK—A Manhattan Grand Jury has indicted former President Donald Trump for failing to return a Blockbuster video in 1993. The charge, which carries a maximum penalty of a $20 fine, has sent shockwaves through the political world.
According to sources, Trump rented the movie "Home Alone 2: Lost in New York" from a Blockbuster video store in Manhattan in the early '90s, but never returned it. The video rental company went out of business in 2010, but apparently, Trump never got the memo.
District Attorney Alvin Bragg said that Trump's failure to return the video is a clear violation of the law, and they plan to pursue the case with all the resources at their disposal. He wasn't kind and he didn't rewind," said Bragg. "We will not rest until justice is served in this case!"
The news has sparked a nationwide debate about the priorities of the justice system. Some people argue that Bragg shouldn't have lowered the charges of over 50% of cases in New York where violent crime has soared only to go after Trump on such a silly charge. Others say that Trump's failure to return a Blockbuster video is a clear sign of his disrespect for the law and should not be ignored.
Trump himself has not commented on the indictment, but sources close to him say that he is furious about the charges. "He can't believe that they're going after him for something so trivial," said one insider. "He thinks it's just another witch hunt by the Democrats."
Meanwhile, Blockbuster executives are watching the case closely, hoping that it will bring attention to their brand. "We've been trying to make a comeback for years," said one executive. "Maybe this will be the thing that finally puts us back on the map."
In any case, the trial promises to be one of the most bizarre in American history. Lawyers are already preparing their arguments, and legal experts are predicting a long and drawn-out battle. As for Trump, he may have finally met his match in the form of a forgotten VHS tape.
Old versions of Home Alone 2 have increased in value since the production company replaced Trump in the movie with a sniffing old pedophile.