BREAKING: Trump opens new luxurious Palestinian Underground Bunker Hotel & Casino to promote world peace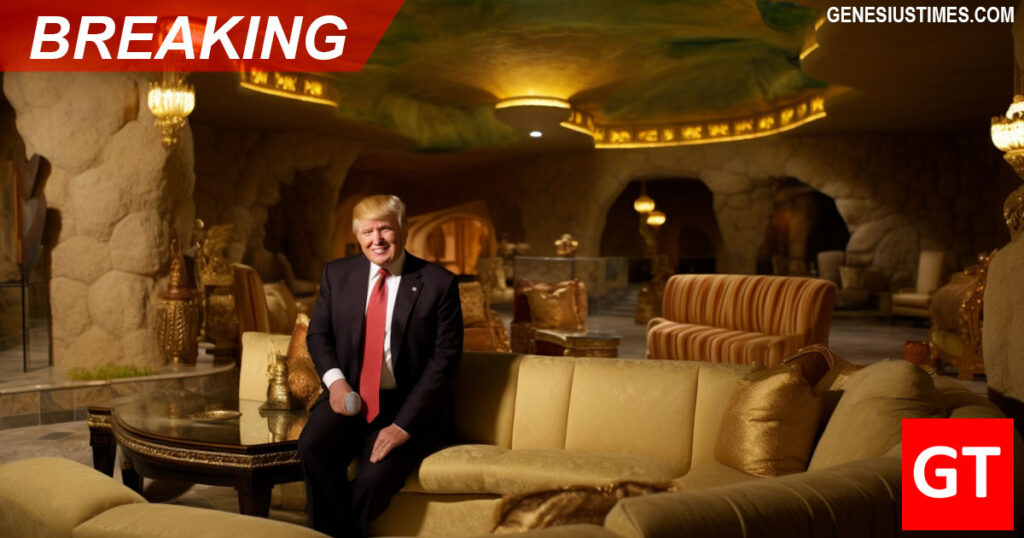 West Bank, Middle East – In a surprising twist, former U.S. President Donald Trump has unveiled his most ambitious venture yet: the Trump Palestinian Underground Bunker Hotel & Casino. Positioned deep beneath the West Bank, this subterranean paradise is making waves on the world stage as a groundbreaking approach to achieving lasting peace in the Middle East.
The underground sanctuary has been transformed into a haven of luxury and opulence that rivals the grandest hotels across the globe. Elaborate chandeliers cast a warm, golden glow upon guests as they venture further below ground, and the decor is resplendent with Trump's signature extravagance.
"This will be the greatest underground bunker hotel & casino in the world. Complete with air conditioning, shampoo and tampons," Trump said.
For those who appreciate the finer things in life, the casino within the bunker offers an unprecedented blend of Middle Eastern and Western games of chance. Guests can try their hand at camel roulette, a novel game that has taken the international elite by storm. The victorious camel takes all in a grand procession through the hotel lobby, led by a glitzy parade of gilded camels.
An elite culinary team ensures that even the most discerning palates are satisfied. The menu features a blend of Palestinian and American cuisine, with Trump noting, "The hummus here is tremendous, really tremendous, some of the best hummus you've ever seen."
Peace was a key theme during the grand opening ceremony, with Trump inviting Palestinian and Israeli leaders to attend. The event saw President Mahmoud Abbas, Prime Minister Naftali Bennett, and Israeli Prime Minister Yair Lapid gathered together for the first time. As they explored the hotel's luxurious amenities, it became clear that the Trump Bunker Hotel & Casino is more than just a place to stay; it's a symbol of hope for a brighter future.
During the grand opening ceremony, Trump delivered his famous quote: "Bunkers have been getting a bad rap for too long. I know bunkers better than anyone, and believe me, this is the most luxurious underground hotel ever built."
With the Trump Bunker Hotel & Casino now open to the world, visitors from all corners of the globe are converging on this underground oasis. Celebrities, political figures, and avid gamblers alike are drawn to the irresistible charm of this subterranean paradise. Although the region's longstanding conflicts have yet to be fully resolved, Trump's latest endeavor has already raised the stakes in the quest for lasting peace and change in the Middle East.
Only time will tell if this audacious gamble will bring about a new era of diplomacy, but one thing is for certain: The Trump Palestinian Underground Bunker Hotel & Casino is a groundbreaking venture that's adding a touch of glamour to the world of international relations.

About Author