Fetterman finally returns from Burning Man 2022: no-one noticed he was gone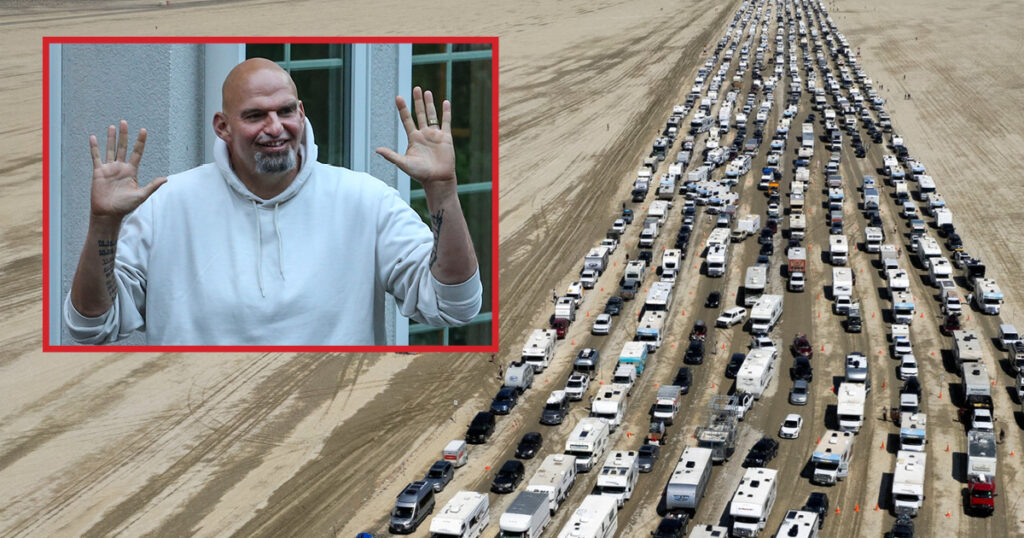 PHILADELPHIA: Pennsylvania senator John Fetterman is back home today after being stuck at the Burning Man festival in Nevada for two years.
The fashion-friendly lawmaker had originally planned a "brief visit" to the 2022 festival in the Black Rock Desert, but got sidetracked when someone asked him who and where he was.
A spokesman said Fetterman had quickly drifted into a haze of leaf drinks and weird interpretative dance, refusing to "get in the friggin' car" when asked on multiple occasions.
Fetterman's wife Gisele, who gave birth to their fourth and fifth children while he was gone, said she thought he was "in the other room."
"I've been calling out to him for two years," she said. "I just thought he was ignoring me or doing acid. Lucky I can forge his signature and do webcam deepfakes or the country might've come to a grinding halt."
Fetterman has been a regular at Burning Man since it began in 1986 and was one of only two people who attended in 2021, even though the event was cancelled and the only other person there was a Nevada Tourism Official whose job was to tell people to "go home, it's virtual this year."
Shocked senators from both sides of the aisle said they didn't know Fetterman could do interpretive dance or that he'd been missing from the chamber for so long.
"He's co-sponsored six bills and voted on about twenty-five," said Democratic Senator Patty Murray, who's been using Fetterman's empty desk to arrange framed photos of aborted babies. "Everyone loved his 'Stop With The Really Long And Confusing Words In Senate Bills Act,' which didn't get a single vote but made lots of people laugh in the bar afterwards."
"We've really missed him, but we hope he goes away again real soon, for longer."
Senate Majority Leader Chuck Schumer held back tears when told Fetterman had finally made it out. "That man never gives up, almost like one of those MMA cage fighters," he said, immediately breaking down on The Capitol steps. "Sorry, you've just reminded me about all those children in cages. They're probably grown men by now, undocumented and alone, and knowing they'll never be truly free."
A poll taken after Fetterman's return said 59 percent of Democrat voters believe the country would be "significantly better off" if he went back to the desert, and 84 percent of those thought it'd be "a really good idea" if Senator Feinstein went with him.
Back in Nevada, organizers of next year's Burning Man say they plan to burn a hoodie-wearing effigy of Fetterman in 2024. "We owe him a debt of gratitude," said founder and CEO Marian Goodell. "He's made people forget what an absolute disaster this year's festival was."

About Author