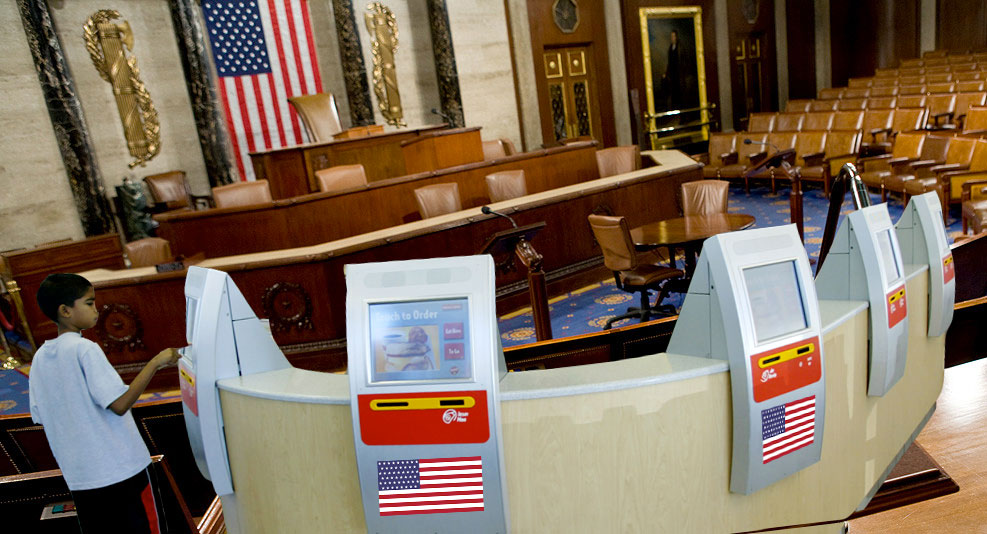 Washington DC—The wave of automation has finally reached the nation's capitol as the entire US Congress and staff will be replaced with automated tellers in the coming weeks, amid talks of Congress getting a raise.
"At $174,000 a year and a substantial amount for life, that was getting pretty expensive," President Trump's legislative liaison Marjory Jenkins said. "So, we decided what was best for the country and the taxpayer was to just replace every representative and senator with a computer."
The automated tellers are programmed to give canned responses to constituents' questions, just like the real politicians.
"I wrote my automated senator about a very important topic to us all," Jills Leland said, "and the machine thanked me for caring about the community and said that my concerns were being addressed and then it didn't do anything about it. It was just like my real senator!"
"Plus, we don't have to worry about health care and all the other associated costs," Jenkins continued.
The plan is projected to save billions of dollars a year, especially considering all the staffers that come with the legislators.
People love the convenience.
"I was never able to meet my representative," Sherry Phillips of Des Moines said, "but with these machines, I can get the same non-response I would've gotten from him within seconds."
"$175,000 minimum wage for Congresspeople is absurd. It's about time Congress optimized!"