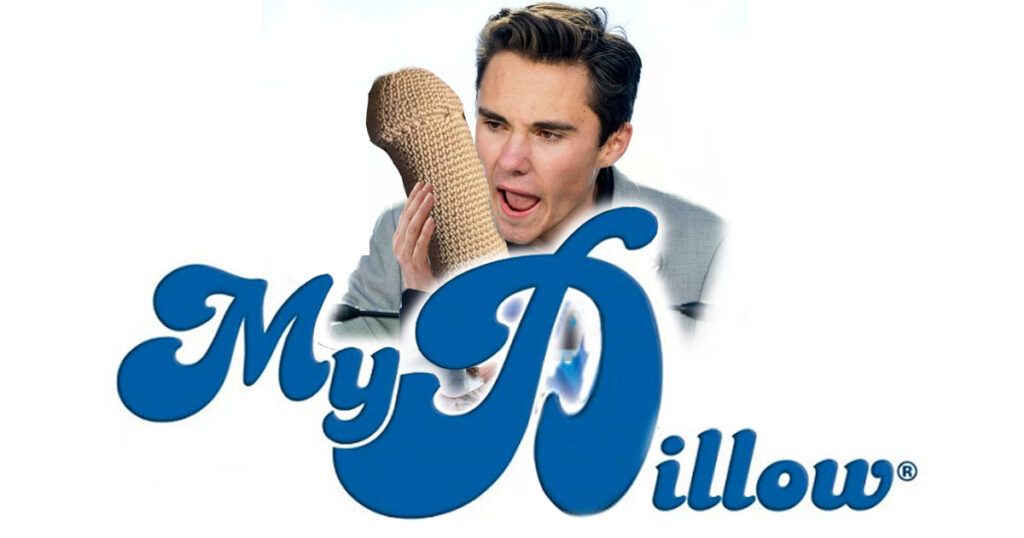 Parkland school shooting survivor and gun control advocate David Hogg plans to launch his own pillow company to compete with MyPillow, which is run by manly conservative Mike Lindell.
The idea was posed to Hogg, 20, in a tweet from entrepreneur William LeGate on Thursday that questioned whether the duo should start a pillow company to "put MyPillow out of business."
Though it might have initially seemed like a joke, Hogg later said that he and LeGate were serious about the business venture. He tweeted a list of goals for the future company, which included, "making a pillow that's perfect for small, mousy boy-like men."
"The MyPillow pillow is great and all for people with normall-sized heads," Hogg said in a press conference about the new company. "But there's really nothing for little mousy men like me and William. And we think Lindell, who made it out of addiction and started a multi-million-dollar company employing thousands and helping former addicts, is an awful person who should be in jail!"
The MyDillows will be knitted, flesh-colored pillows with a small, shaft-like design, perfect for little men.
"Beta men need pillows too!" Hogg added. "We're going to provide!"
MyDillow will run a series of scented pillows in their Biden line with scents of vanilla ice cream, frightened child, and Chinese Yuan. Hogg also plans on releasing a chew toy called MyPillowBiter to go along with the MyDillow.