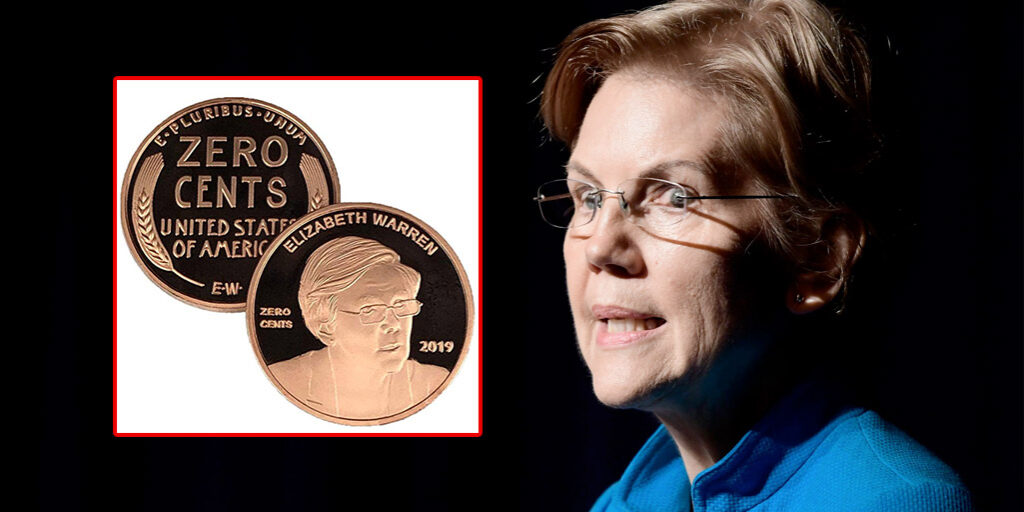 Sen. Elizabeth Warren's presidential hopes just scored another boost after front runner Joe Biden has been mired with corruption charges and Bernie Sanders has taken a step back after faking a heart attack to get out of paying for an expensive dinner.
Warren will be honored as the first 1/1024th Native American to be featured on a US coin. The US Mint has issued this 'zero cents' coin, which will not be able to buy you anything, to help citizens acclimate to the economic conditions under a socialist Warren presidency.
"Our money will be worthless if Elizabeth 'Pocahontas' Warren takes over and implements her brand of socialist utopia, so, we should get used to it with these zero cents coins," US Mint President Eduardo Moolah said in a press conference.
There have been other Native Americans on US coins, but none with the special 1/1024th level of heritage, which allowed Warren to breeze through law school.
You can get the coins on Amazon before they start showing in the general circulation:
2019 First-edition, one-of-a-kind Elizabeth Warren Democrat penny coin! Just as fun as your Donald Trump Coins!
These coins are die-struck and engraved by expert craftsmen, and have blemishes and imperfections, JUST LIKE DEMOCRATS! SIZE: 30mm x 2mm, which is larger than a normal penny, but super fun! Each coin comes individually packaged in anti-extrusion protection box and plastic bag.
We GUARANTEE the high quality of this coin, even with its blemishes or smudges, which are on purpose, to show the value of the Democrats!
Display this with your Donald Trump Coins, Bobbleheads, T-shirts and other fun political items.
This is the perfect gift for everyone on both sides of the aisle.

About Author