Grammys slammed for including inappropriate Pepé Le Pew in otherwise family-friendly Cardi B pornography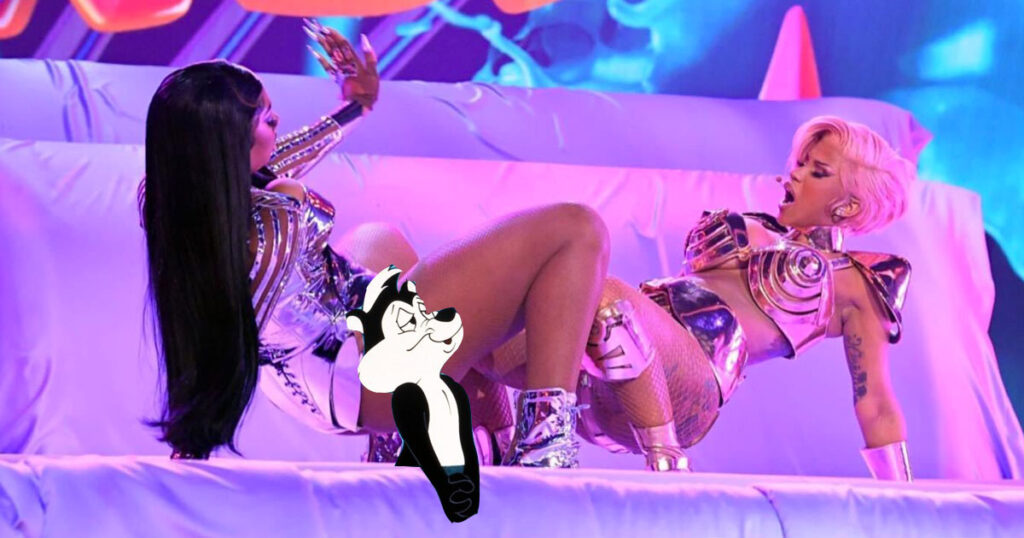 HOLLYWOOD—People across the country were livid that the Grammys production staff included the offensive and inappropriate cartoon skunk Pepé Le Pew in the otherwise wholesome family-friendly porn scene by Cardi B and Megan Thee Stallion.
Megan Thee Stallion, coming fresh off her win for best new artist earlier in the evening, took the stage and gave an female-empowering performance for her hit singles, "Savage" and "Body."
Then Cardi B performed her song "Up," alongside a giant stiletto. Just when you thought the heat was turned all the way up, the two artists gloriously twerked and strutted and owned the stage in Barbarella-esque outfits, referencing female empowerment, sexual pride and delivering undoubtedly one of the most memorable Grammy performances of all time.
Then, as they were bravely demonstrating sexual thrusting for the child viewers at home, Le Pew made a cameo and ruined the whole thing.
"It was totally inappropriate and offensive to see the Le Pew cartoon on stage like that in the midst of the empowering pornography," mother of two, Janet Hellen said. "I thought the Grammys were supposed to be family friendly but you just can't trust anything anymore I guess. What are they going to do next, put a big Trump bobble head doll in the otherwise empowering alien rape scene?"
The Grammys have apologized for the inexcusable inappropriateness of the cartoon cameo and promised to only have only completely naked women gyrating next year, you know to encourage respect for women.
"We're very sorry. It took away from the empowering roll models that these two artists are for women and we're very sorry," Grammys CEO Bob Finkleface said.

About Author