Homeless man ends WGA strike by mistakenly joining picket line: 'Will work for food!'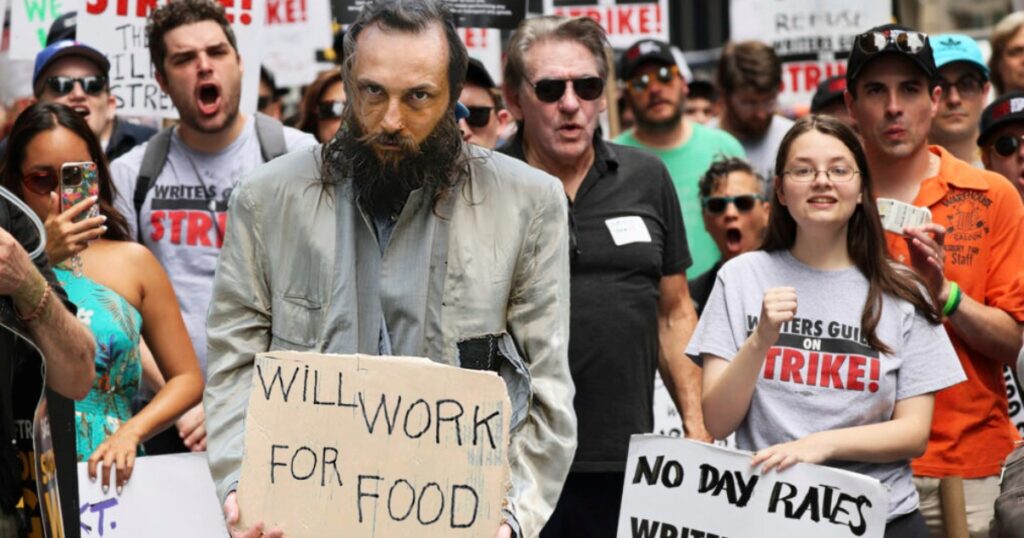 HOLLYWOOD—Privileged writers and studio executives are celebrating today after a homeless man inadvertently ended the 100+ day strike between the Writers Guild of America (WGA) and the Alliance of Motion Picture and Television Producers (AMPTP).
The man, known only as "Bob The Sniffer," mistakenly joined the picket line outside NBCUniversal Studios when he thought it was a queue for free hotdogs.
His handwritten sign, which read "Will Work For Food!," was noticed by top AMPTP negotiator Carol Lombardini, who immediately organized a Zoom meeting from her holiday suite in Bora Bora.
"We agree!" she reportedly told her team of lawyers, who frantically contacted their WGA counterparts to share the news.
Within minutes, both sides had committed to resume production on unfunny sitcoms no-one cares about, saying the new agreement would make "food" a priority for all "those people who type words on pages."
"We didn't know that's all they wanted," one studio executive said from his convertible. "We could've ended this three months ago and no-one would've starved to death."
Some industry insiders say the AMPTP went too far by offering food, saying writers do their best work when they are broke and starving. "This is a massive capitulation to union demands," said an Uber driver with no connection to anyone. "Next they'll be handing out free water bottles in writer's rooms."
After the breakthrough, writers partied in the streets to celebrate a return to work for less than one percent of them. "It's a great day," said an old guy who'd joined the WGA in the seventies and hadn't had any work since. "I can't wait to start getting my scripts rejected again by the studios."
Other, more successful writers lamented what the strike had cost them and the families of their undocumented workers. "I had to fire the pool boy from my second house in Cabo San Lucas," said Craig Mazin, chuckling. "Ironically, he's probably the one going without food now."
The homeless man at the center of it all, Bob, said he had already been approached to star in a sitcom about his own life, which would involve him reflecting on society's problems with a talking turd named "Floaty." "It's hilariously funny and it's going to challenge people's attitudes towards human waste and how it's looked down upon in our communities," Bob said. "Shit doesn't just happen, it has feelings too."

About Author