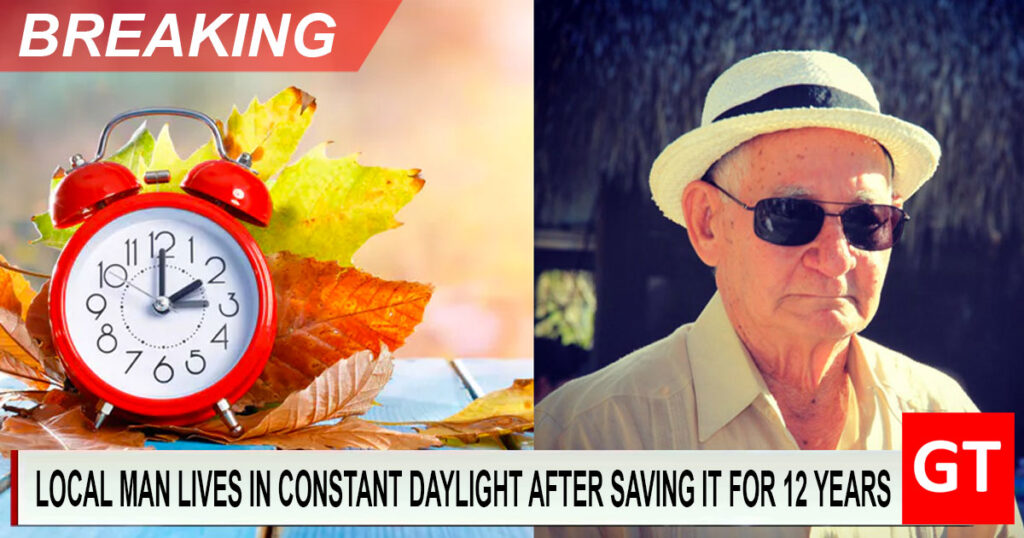 A local man is living in constant daylight after saving it for 12 years.
"I've done my work and I save my daylight," the retired urologist Bill Pardot explains, "but I'm not stupid and I don't go spending it every fall, completely wasting the hour I saved."
Pardot has been changing his clocks just like everyone each spring, but has yet to change them back every fall, thus giving him a full 24-hours of daylight a day.
Every year there are grumbles when we're told to "Spring forward" and then "Fall back" as if those phrases mean anything. Critics of Daylight Savings Time say that the institution is a complete mind-numbing waste of time and doesn't really do anything to benefit anyone, but Mr. Pardot appears to have solved the puzzle.
"Just don't Fall back and you keep all the daylight you've saved! It's so simple!"
Pardot claims to live in constant daylight. "I can do so much more since it's always daytime for me and I don't have to spend anything on energy since you supposedly save energy for the 'Daylight Savings' hour."
Pardot has a message for governments and citizens around the world who have succumbed to the thoughtless tyranny of Daylight Savings Time propaganda: "Why do you sheeple squander that hard-earned daylight?? Keep saving it and eventually, if you save enough hours of daylight, you'll live in eternal sunshine like me!"
Originally published October 27, 2018

About Author