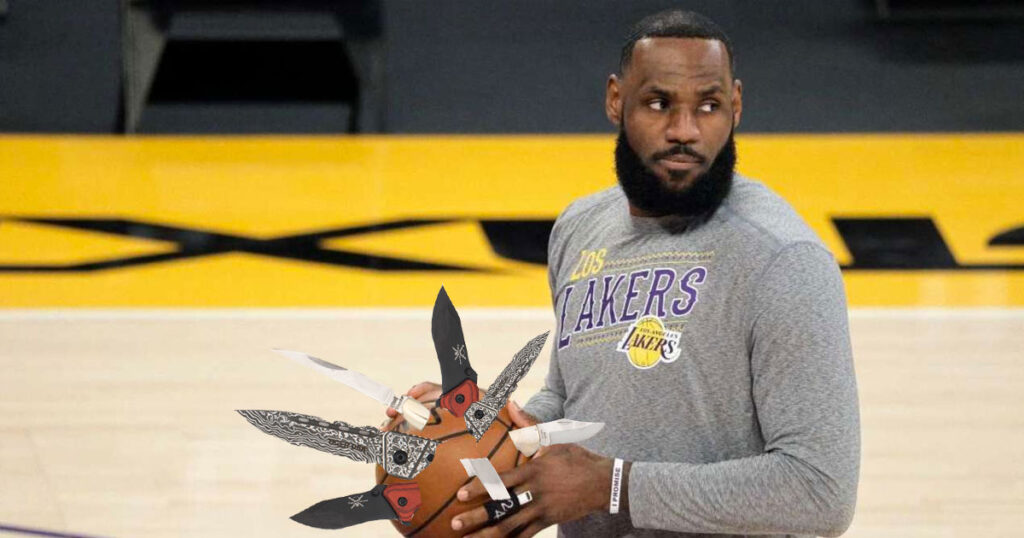 LOS ANGELES—Communist China puppet activist and occasional basketball star LeBron James has created a new way in standing in solidarity with the leftist movement. LeBron and other woke athletes have already done activities such as taking a knee during the national anthem and wearing the apparel of the communist organization Buy Luxury Mansions (BLM).
Now LeBron has endorsed the move by the NBA to replace the basketball in the sport of basketball with a ball of knives to honor Ma'Khia Bryant. Bryant was shot by a white police officer in Columbus, Ohio, while wielding a knife, thus elevating her to sainthood within Woke Culture.
"It's clear the girls were just playing," James said. "There was no reason for police involvement and we're going to prove it by playing with a ball of knives."
It's not clear if this was one of those assault knives or just a regular 10 inch butcher knife. LeBron has decided to replace the ball used in the sport has a way to show that the kitchen utensil is not as harmful as people claim in addition to his Twitter war against police.
Dribbling and dunking will be allowed still although it may be a little more difficult as the knives are not known for their buoyancy so a lot of practice will be needed. Some slight changes to what is and isn't a technical foul will also need to be made to the sport invented by white Christian (and therefore racist) James Naismith. COVID-19 regulations regarding masks, social distancing, and vaccination will still be in effect in the name of public safety. Oddly enough, interest in the in the game which had been ignored by many US Citizens has increased in anticipation of the new changes.

About Author