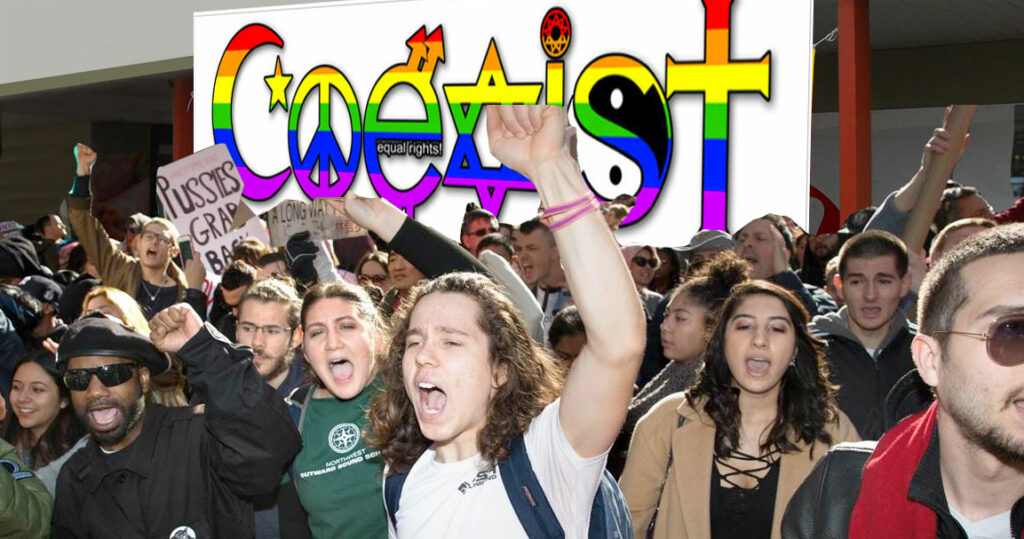 A Coexist rally meant to bring people together from all walks of life kicked off this week with a brutal beating of several white male Trump supporters who found their way into the event.
"We are all about inclusivity here!" Margarine Jones, president of the local Coexist chapter said. "We welcome everyone here so that's why we felt the need to beat the s**t out of those white Trump supporters and kick them out."
Coexist rallies have taken the famous bumper sticker promoting peace and love for all of humanity to another level, forcing all that peace and love down the throats of everyone whether they like it or not.
"I mean how dare they come into this welcoming safe space for all peoples and ruin it by being the wrong type of people?" Jones added.
Mike Stalls was one of the Trump supporters who was beaten nearly to death at the event.
"I was looking forward to bridging the gap and reconciling differences," Stalls said. "But the next thing I know I was being jumped by a bunch of viscous ideologues yelling, 'Love trumps hate' and 'There's no right and wrong, but you're clearly wrong!' I'm just really disappointed."
Jones insists that all are welcome at her rallies. "Everyone is welcome . . . as long as you believe what I believe. If you don't, we will hurt you."

About Author