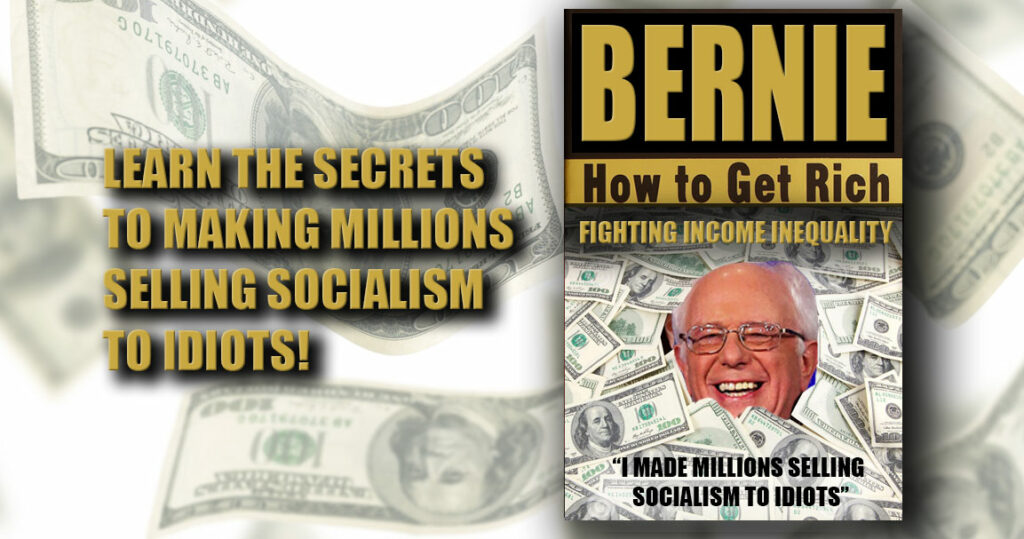 Democratic Socialist Bernie Sanders is on a roll. After making a name for himself decrying capitalism and fighting the super-rich, he's sold millions of books and became super-rich himself. Now, he's sharing his wisdom in a new book.
"I want to share in the wealth that I've accumulated railing on the wealthy. And for just $29.99, you too can learn the secrets of selling socialism to idiots!" Sanders said at a campaign stop in New Hampshire.
Sanders recently released his tax returns showing that he is indeed part of the 1% that he and his supporters have vilified for the last several years.
"You too can become rich selling the age-old lies of a socialist paradise. All you need to do is pawn some of your furniture and send me the money. Together we can fight income inequality!"
RELATED: Bernie Sanders selects Bernie Madoff as running mate citing experience in Ponzi schemes
The design of the book is eerily similar to President Trump's "How to Get Rich" which has sold millions of copies in its own right.
Fellow democratic socialist, Alexandria Ocasio-Cortez tweeted that, "If socialism doesn't work, explain to me how Bernie Sanders became a millionaire as a socialist."
It's just genius!


About Author