BREAKING: AOC begins cloning herself so that 'everyone can date her'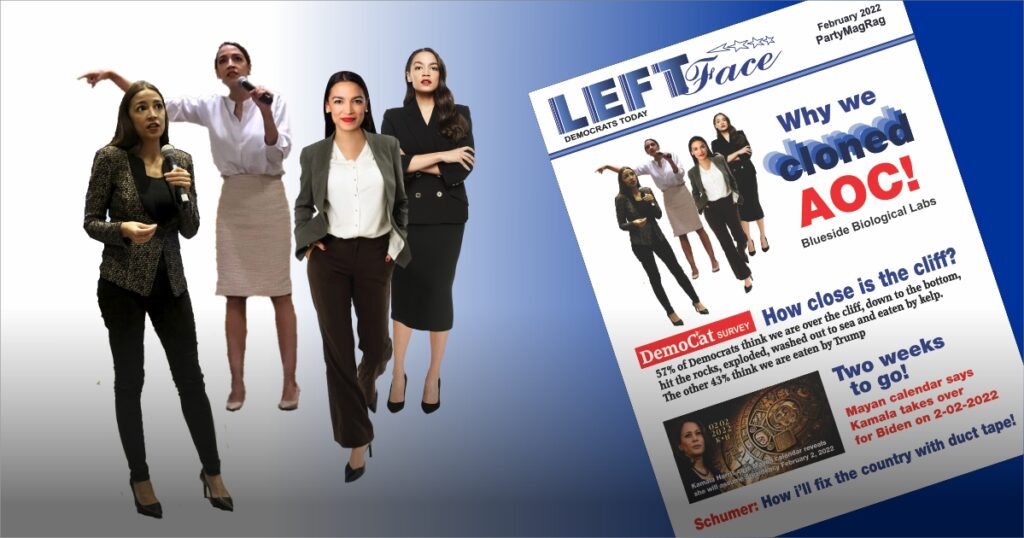 US—Blueside Biological Labs has begun cloning US Representative Alexandria Ocasio-Cortez (D-NY) so that "everyone can date her," according to Left Face Magazine. The clones will be made available to purchase on AOC's campaign website for $6,969 each.
Dr. Maria Coumi explained, "We knew the demand would be there. When AOC announced that all Republicans want her, we swung into action. We have an avalanche of orders and AOCs can be produced in our lab in China for only a few, well, that's secret, but let's just say, even the fry cook at McDonald's could be oiling her onion rings by Christmas with our low financing rates."
The magazine's reporter, Slip McGuire, asked, "So, what responsibilities do you have when you own one. Do they come toilet trained?"
Dr. Coumi filled them in. "They come with rudimentary skills, approximately a seventh grade education, so, a very accurate copy of the real AOC. The clones have no legal rights so you are free to treat the clone in any manner. Maybe you just want a companion; just dinner and a movie, or maybe you want to step it up a notch with rough sex. You choose."
Dr. Cuomi assured us, "We don't think the clones should be worried. Not many people will want to kill their AOC as the cost would be prohibitive however, someone very rich like Elon Musk maybe, he could just line them up and shoot some for breakfast every morning, I'm sure. Many of our units have been ordered with Furry costumes, The fox is very popular. The maid is popular, but, in all fairness, so is the lumberjack. To each his own."
After reading the magazine article, we here at the Genesius Times ordered three. One will be the top prize in the office Super Bowl pool. One for the boss, and one I will keep in the janitor's closet for those late night deadlines.