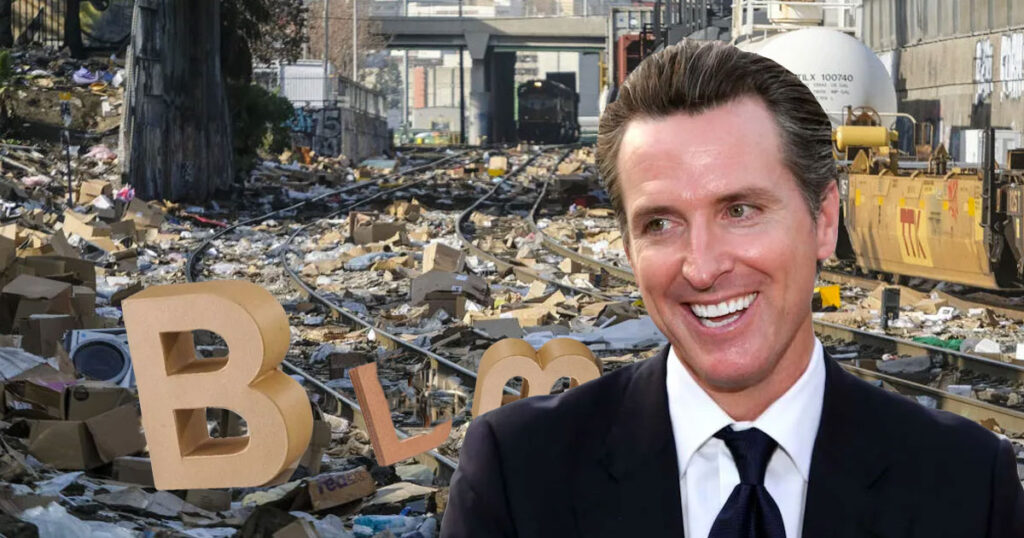 LOS ANGELES—California Governor Gavin Newsom turned lemons into lemonade today by creating a fun little "Black Lives Matter" sculpture out of all that trash left by the looters stealing stuff off of Union Pacific trains in Los Angeles.
"The only thing you need to understand as we endure this horrible spike in crime across the state that black lives matter," Newsom said. "
"Gavin is a political genius. He turned a really sad story about the crime and ecological disaster that is Los Angeles into art that won't help anyone, and that's what BLM is all about," local resident Kai Turkey said.
Thousands of Amazon and UPS packages in transit to people across the country were recently found rifled through and abandoned on the side of train tracks in Los Angeles, according to reports. Littering the side of the tracks were packages addressed to recipients from Seattle to Las Vegas and other places around the country.
"But don't worry if you are missing a package because it's now part of a beautiful art exhibit made from trash," Turkey said.
Items in these boxes ranged from family portraits, boots and medications to COVID-19 rapid tests, swabs and PPE. Among the pricier items encountered by Nexstar's NewsNation was a box of Humira — an arthritis medication that can cost patients more than $6,000.

About Author