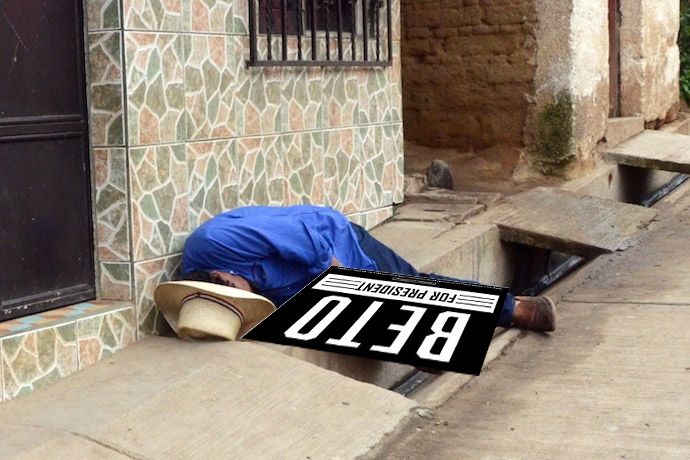 Robert "Beto" O'Rourke, taking his pseudo-Latino persona to the next level, partied it up with his amigos on Cinco de Mayo and ended up passed out in the gutter, using one of his campaign signs for a blankets.
"He was yipping and singing with a bottle of Tequila all night," a local man said of O'Rourke. "He kept going on about how much he was so glad to be Mexican and how glad he was to be celebrating Mexico's independence from the United States."
Cinco de Mayo is a holiday celebrating–not Mexico's independence–but rather Mexico's short-lived defeat of the French Army in the 1860s.
"I tried to tell him that it wasn't Mexico's independence day and that it was really September 16th, but he just kept shouting, 'It's Cinco de Drinko amigo!'."
O'Rourke is running for president of Mexico in the 2019 election and simultaneously running for president of the United States in 2020.
O'Rourke became a national star when he challenged his Republican Ted Cruz for his seat in the Senate and lost handily despite spending $200 billion of campaign dollars which came from donors from New York and Los Angeles.
"He's really taking this persona seriously," political analyst Hunter Rodriguez said. "I mean, he's really going for all the really bad stereotypes to make people think he's Mexican."
At the time of publishing, O'Rourke was still sleeping in the gutter, drunk and unemployed.

About Author