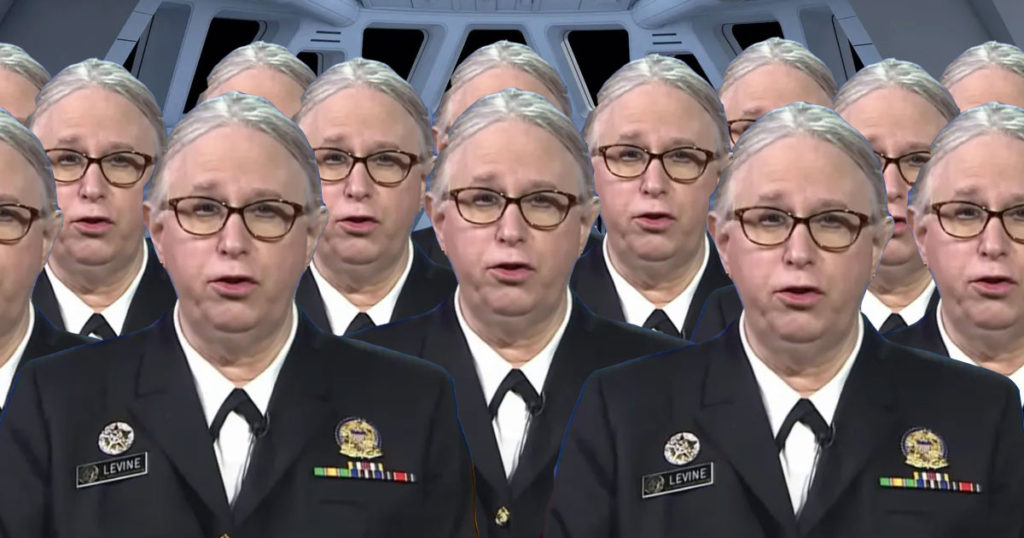 WASHINGTON, DC—Facing pressure from an increasingly hostile and militaristic China, President* Biden has approved a program to replace all military personnel who refuse to be vaccinated with an army of Rachel Levine clones.
Levine, who recently became the first female four-star admiral with hairy balls, was praised by Biden as the ultimate fighting machine. The first female four-star general without hairy balls was Michelle Howard.
"We don't need our current military. They're too into guns and stuff," Biden said. "Our new military will be the first ever to be a clone of a trans woman. Take that China!"
Department of Defense officials say the controversial idea to clone the ultimate fighting machine came from a Star Wars film, but after years of ignoring biology, they felt they had found the single greatest military person in the world and it was time to put the cloning plan into action.
"Sure, China has hypersonic nuclear missiles. Well, we have millions of clones of that fat tranny broad," Biden said.
The Rachel Levine Clone Army will be set to take battlefield in the Spring of 2022 and will target the enemy with serious pronoun correction techniques.
Rachel Levine first gained esteem among Deep State circles when she killed thousands of elderly during the pandemic response in Pennsylvania.

About Author