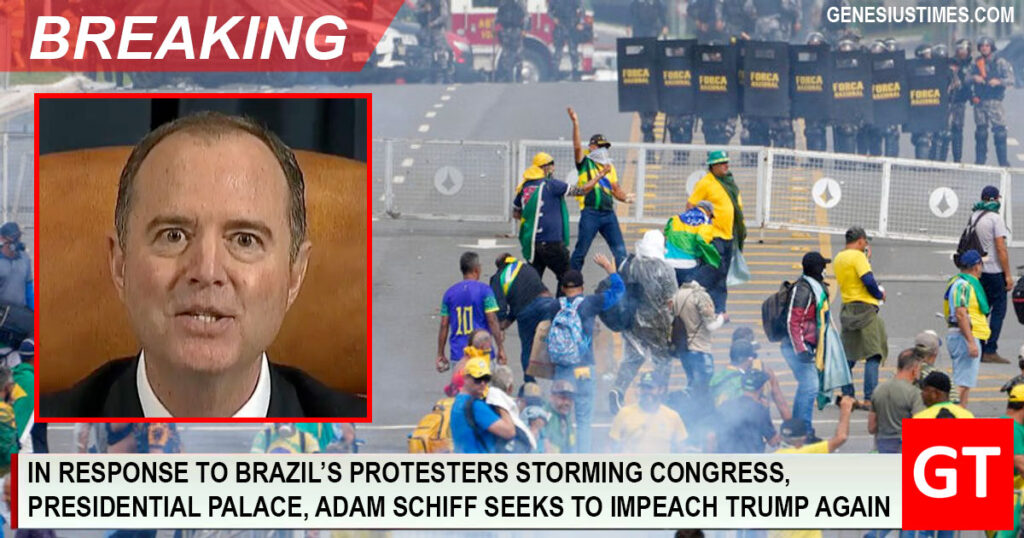 BRASÍLIA, Brazil—Anti-communist protesters in Brazil have reportedly entered into the facilities where the country's Congress and Supreme Court meet. They have also stormed the Presidential Palace, rejecting the illegitimate election of President Luiz Inacio Lula da Silva.
In response to the uprising, Representative Adam Schiff (D-CA) said that he will be impeaching former US President Donald Trump again.
Schiff said he has damning evidence that Trump was in Brazil at the time leading the uprising.
"Now is the time to act! I have detailed evidence that Trump is responsible for the uprising in Brazil with two Russian women peeing on him and I will be releasing it in two weeks," Schiff said in an exclusive interview with Genesius Times.
Protesters break the windows of the Congress cloakroom and invade the Chamber of Deputies. Extremists are already in the Green Room and in the building's annexes. There was also an invasion of the Planalto Palace. President Lula is not on site.
"This has Trump's name written all over it," Schiff added.
The US Federal Bureau of Investigation will pay $1 million of taxpayer money to anyone with quality fabricated evidence that makes Trump look bad.

About Author