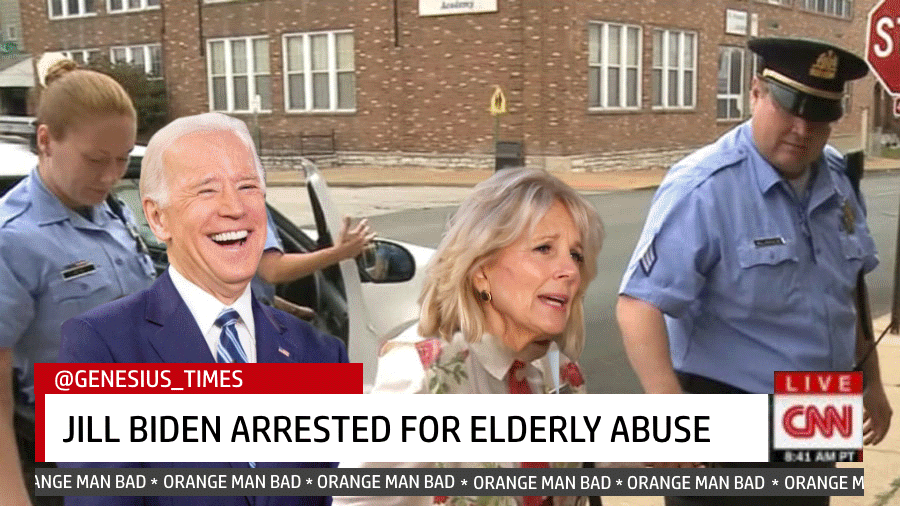 WILMINGTON, DE—After months of forcing her senior-citizen husband President* Joe Biden into the public spotlight despite his embarrassing declining cognitive inabilities, Jill Biden has been arrested for elderly abuse.
In a recent press conference on Afghanistan it was revealed that Jill Biden was forcing her husband to answer questions with an electrical cattle prod.
Immediately following the conference, Delaware's Adult Protective Services arrested the former Second Lady. State authorities have accused her of mistreatment, manipulation, and exploitation of a vulnerable adult.
"Investigators have been monitoring Mrs. Biden for months," said Sheriff Scott Philips. "The victim's behavior at the interview was enough to obtain a warrant for the suspect's arrest."
On the way to jail, Jill Biden kept yelling, "It's Doctor Jill Biden. Doctor!"
Jill Biden was released on a $1,000,000 bail, paid for by her stepson and multi-millionaire fine artist Hunter Biden.
Awaiting trial in the New Castle county jail, Jill told reporters, "Joe was never supposed to win the presidency," she said. "But I just really want to redecorate the White House curtains."
The victim returned to his home and has not yet released a statement. He is allegedly lost somewhere on the White House grounds.

About Author