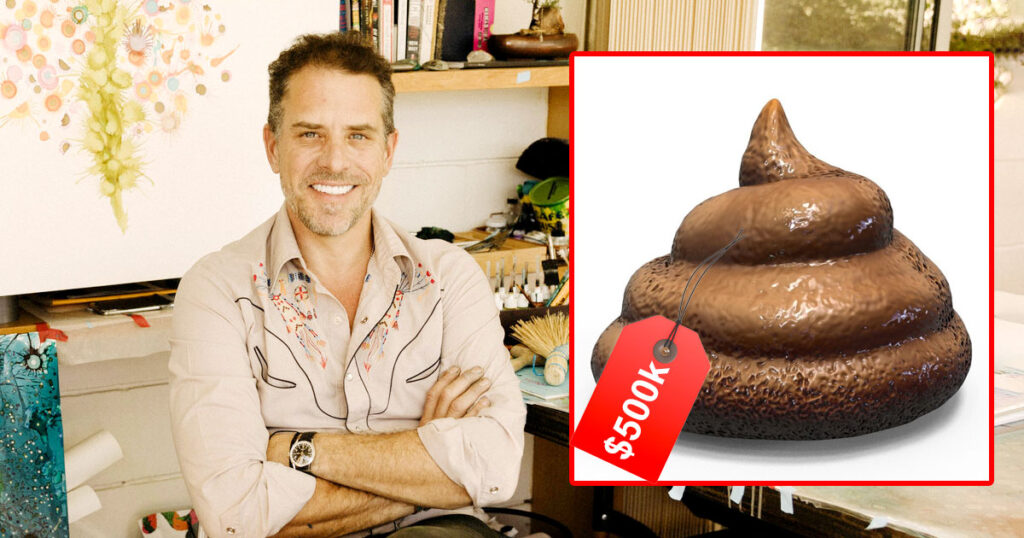 LOS ANGELES, CA—Hunter Biden is preparing to sell several piles of his own feces at an upcoming art exhibition for as much as $500,000 to "anonymous and confidential" buyers, sparking concerns over bribery and potential money laundering.
The scandal-plagued first son, who has no professional background as an artist, but has found success selling his fecal matter to anonymous collectors.
Hunter's father, President* Joe Biden, has said Hunter should not know "who is buying his sh*t" to prevent ethics violations.
"Many people will think that this is a strange arrangement," Biden's ex-con art dealer Georges Berges said. "But if people want to remain anonymous after buying Hunter Biden's literal sh*t then that's their prerogative."
No one knows who the collectors could be.
"They really could be anyone who is interested in fine feces," Berges said.
Berges also said that if there was any doubt that Hunter Biden made the feces, he is providing a biological test that genetically proves Hunter took the dump himself.
One collector boasted that he had already secured some of Hunter's feces and thinks it's ethical that future collectors are anonymous.
"I was lucky enough to get my hands on some of Hunter's crap ages ago and it's simply marvelous. It absolutely smells earthy and raw but it's amazing and I wouldn't sell it for anything now," the collector said. "But I understand if future collectors don't want to be identified. The Bidens are so ethical, you don't want an art sale to unfairly cast doubt on how ethical they are."
Berges assured everyone that he will be "giving 10% to the Big Guy" still, in line with previous Biden family deals.

About Author