BREAKING: More charges filed against Trump after evidence of him kicking a puppy surfaces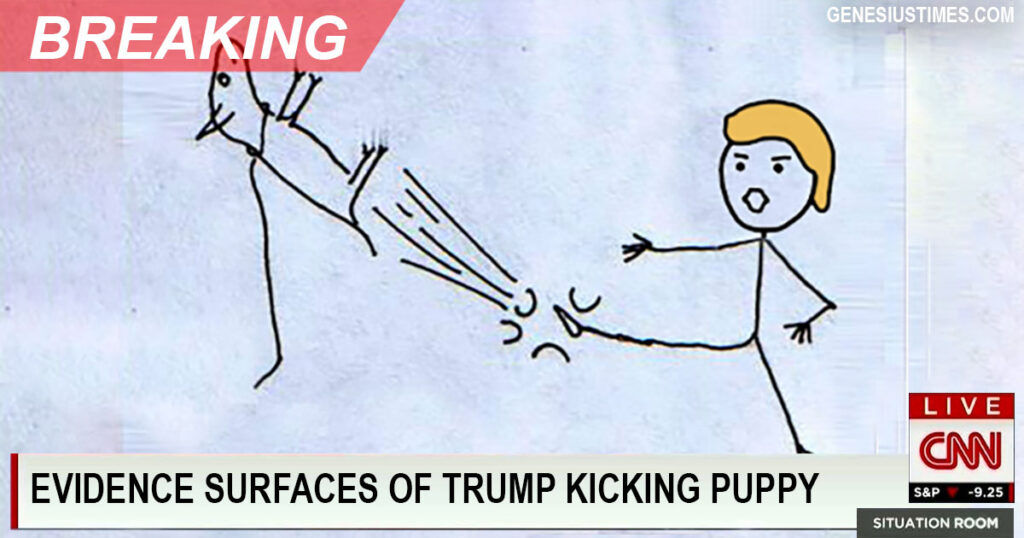 (CNN) US—The New York District Attorney Alvin Bragg has filed more charges against former President Donald Trump after evidence of him kicking a puppy has surfaced.
The picture, which was allegedly drawn by Adam Schiff, shows the former President grinning as he delivers a swift kick to a helpless puppy. The picture has caused outrage among animal rights activists and has prompted the authorities to take action.
"We take animal cruelty very seriously in this country," said a spokesperson for the Department of Justice. "No one, not even a former President, is above the law."
The new charges against Trump include animal cruelty, destruction of evidence, and using poor quality art supplies. Trump has denied any wrongdoing and has called the picture "fake news."
However, the picture has been authenticated by several experts, including forensic artists and puppy behaviorists.
"It's clear from the puppy's body language that it was in distress," said one expert. "Adam Schiff is totally reliable so I think Trump needs to go to jail for a long time for this."
The picture has also caused a rift among Trump's supporters, with some calling it a "fake" or "deepfake" while others are questioning his judgment and character.
Meanwhile, President Biden has seized the opportunity to promote his animal-friendly agenda and has promised to enact stricter laws against animal cruelty.
"We cannot tolerate such barbaric behavior towards innocent animals," said Biden in a statement. "As a nation, we must stand up for our furry friends and ensure that they are treated with the respect and dignity they deserve."
It remains to be seen how this latest development will affect Trump's legal battles, but one thing is clear: kicking puppies is never okay, no matter who you are.

About Author