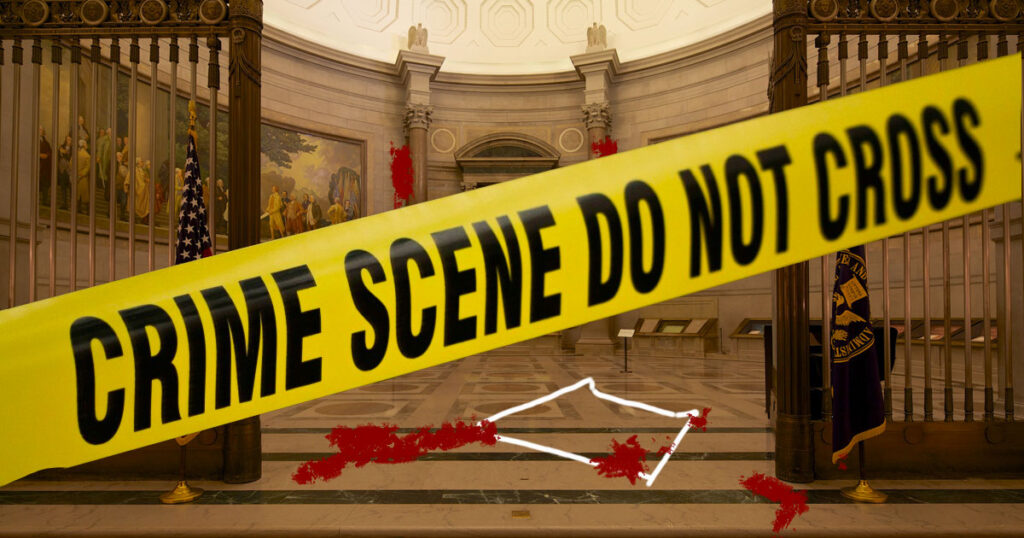 UNITED STATES—Media reports confirm that shortly after Joe Biden was sworn in as president, the Constitution of the United States was found dead at the National Archives. It was 233 years old.
D.C. police discovered the document at the National Archives after receiving a 911 call from someone who formerly resided at 1600 Pennsylvania Avenue from 2017-2021. Police say the crime scene was gruesome, as the document was severely beaten, riddled with bullet holes and awash in a pool of blood that was inches deep.
"We've determined based on the physical evidence that the Constitution has been the object of endless beatings and assaults for over two centuries," D.C. Police Chief Robert Contee said. "And over the course of that time, it has filed hundreds of restraining orders against the Democratic Party but to no avail. We have very strong evidence that the Democratic Party has violated the Constitution in every conceivable way over that same period of time. We vow to find the perpetrators of these heinous crimes and bring them to justice."
The news elicited mixed reactions from across the country.
Rep. Alexandria Ocasio-Cortez expressed her joy at the news. "This is like a big relief for me. The Constitution used all these complicated words I don't know and never really served any purpose other than to establish a racist, white supremacist, cultural appropriationist, patriarchal and anti-LGBTQWXYZ society. With that silly document gone, we're going to create the democratic socialist state we've all longed for."
Others were saddened by the news. "This is a very sad day for America," radio host Ben Shapiro said on his show. "The Constitution has served our nation faithfully for over two centuries, only to be fatally wounded and shot by a bunch of socialist thugs from the Democratic Party. I can now state with absolute certainty that we're headed to full-blown communism. Sorry folks."
Police confirmed later in a statement that the Constitution's twenty-seven amendments were also fatally wounded, leaving no survivors.
On behalf of the Genesius Times, we'd like to express our condolences to the nation for its terrible loss. May G-D watch over us during this difficult time. Amen/Awomen.

About Author