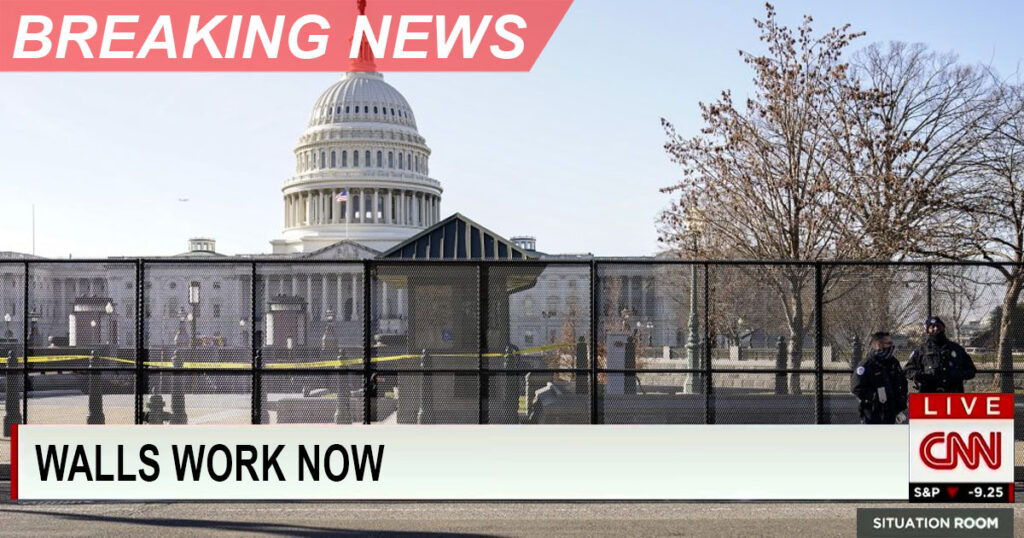 WASHINGTON, DC—After years of telling people that walls do not work to keep people out of the United States, Democrats are lauding a wall designed to keep people out of the US Capitol.
"We praise the wall-builders who constructed this edifice to security of the sacred temple of the government," Speaker of the House Nancy Pelosi said. "We all know that walls work."
At a news conference Thursday, Army Secretary Ryan McCarthy said the military was erecting a 7-foot fence around the Capitol grounds in the wake of the storming of the building by supporters of President Donald Trump.
This comes shortly after Stolen President-elect Joe Biden announced he would build a wall along the entire coast of the United States to combat rising sea levels.
"We know that walls don't work when they're built by Republicans to keep law-abiding immigrants out of the country," Senate Minority Leader Chuck Schumer said. "But this glorious wall will absolutely work to keep violent insurgents who will stop at nothing to destroy democracy out of the Capitol."
Some 25,000 National Guard troops will be stationed throughout the city to guard against protestors. The troops, which were ineffective and horrifying when deployed against BLM rioters last year, are a good thing now too.
Pope Francis took some time out from criticizing people who build walls instead of bridges to commend the DC police and the US National Guard for their efforts in building this wall.