Chris Rock avoids all 'appearance' jokes with feisty crowd at Mos Eisley Cantina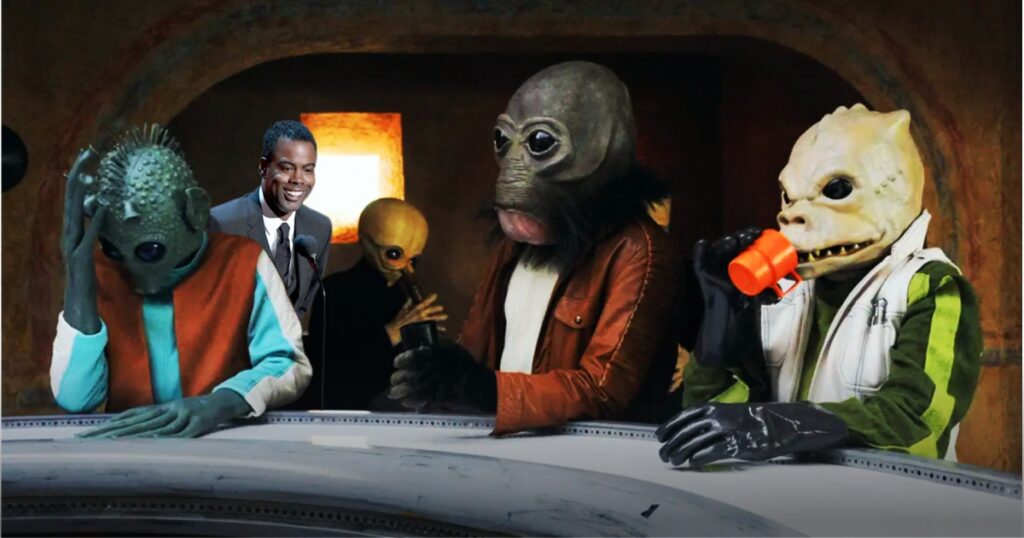 TATOOINE—Star pilots crowded the Mos Eisley Cantina last Saturday night as comedian, Chris Rock opened to a sold out crowd.
Showcasing all new material he covered such topics as long transit times outside the empire, artificial intelligence miscues and funny pets, steering around anything that could be misconstrued as a slight on someones appearance or features.
Backstage, his longtime makeup artist spent over a half an hour covering a cheek bruise the size of a Betaguesse plum he received at the Oscars, back on Earth. He shrugged off the confrontation characterizing the incident as nothing.
"Will Smith hits like a female Octaganippon. I've had my ass kicked by the best the clones could bring, so… that wasn't shit. I'm just a little afraid for Jada. I mean Will's action pretty much explains why her hair is so short. Easier to get away."
We cautioned Mr. Rock that Will Smith has a subscription to the Genesius Times and very well could read this to which he responded. "I don't think he travels this far out into the galaxy."
He's probably right.

About Author