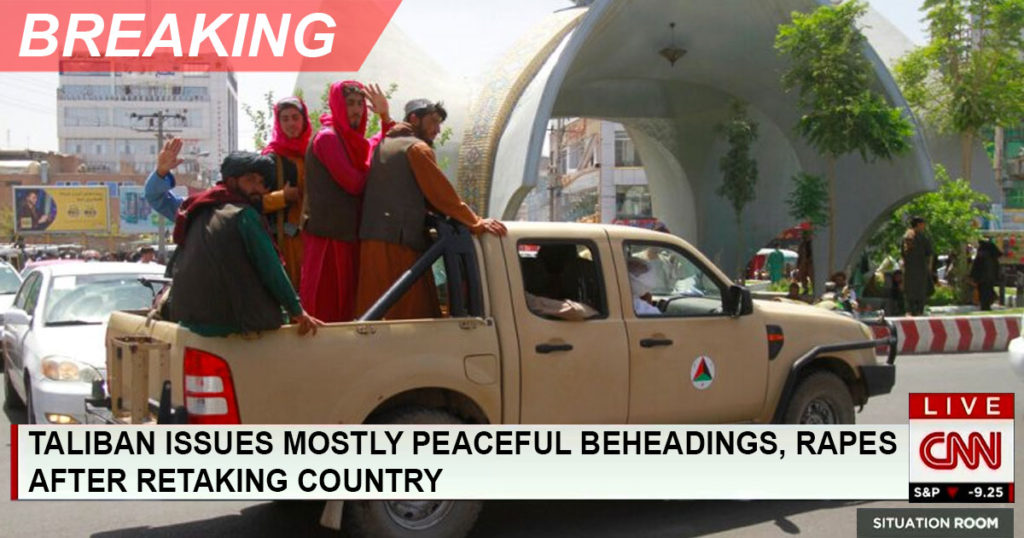 (CNN) Afghanistan citizens face mostly peaceful executions, beheadings, and violent rapes of adolescent women as the Taliban sweeps across the country, wrestling control from ineffective government forces as the U.S. troop withdrawal nears, according to U.S. officials and watchdog groups.
The militants have seized territory at an alarming rate while Afghan government troops and their allied militias fail to put up an effective resistance – surrendering at times without even putting up a fight.
The U.S. embassy in Kabul said Wednesday that it was receiving reports that Taliban members were beheading opposition and raping women and goats but CNN has discovered that it has been a mostly peaceful enterprise.
The mostly peaceful executions "could constitute war crimes," the embassy tweeted.
"When there are two girls in a family, they take one to marry her off; when there are two boys, they take one to make him fight," reported a young widow, with a dirty catheter planted in her hand from a leg injury.
The widow assured CNN that it is all being done in a mostly peaceful way.
US Vice President* Kamala Harris said of the mostly peaceful Taliban takeover, "But they're not going to stop. They're not going to stop. They're not. This is a movement. I'm telling you. They're not going to stop, and everyone, beware. Because they're not going to stop. They're not going to stop before election day in November, and they are not going to stop after election day. And everyone should take note of that on both levels. That they're not going to let up. And they should not, and we should not."
This story is developing.