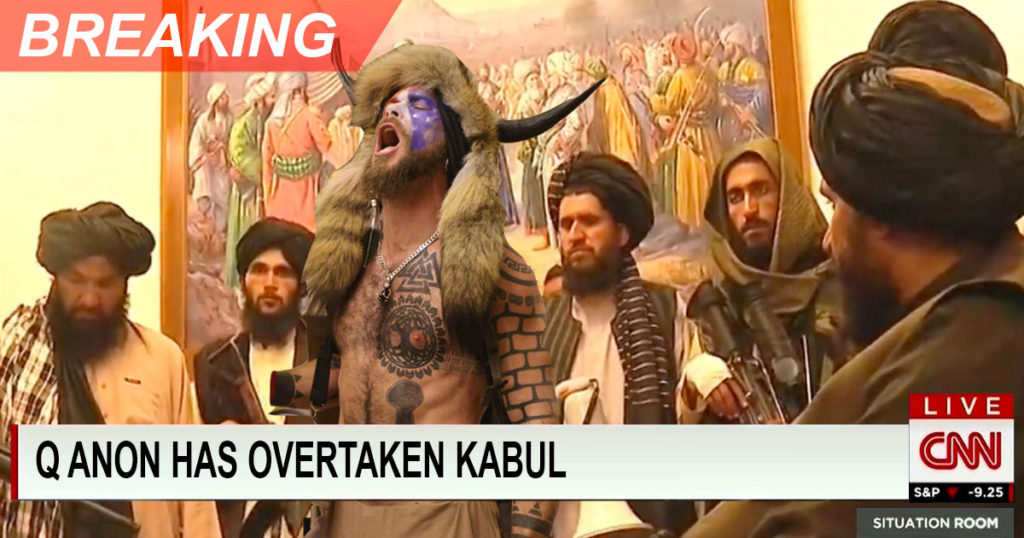 KABUL, AFGHANISTAN—The Q Anon Shaman was seen in pictures taken at the Afghanistan Presidential Palace after he and other white supremacists seized the capitol.
Intelligence agencies were shocked to learn that the insurrectionists had escaped their imprisonment and flown to Afghanistan to incite an insurrection there.
"When I say that white supremacy is the greatest threat to America, I mean it's the greatest threat to the world," US President* Joe Biden said while on vacation in Delaware.
The white supremacists marched into the Afghan capital, Kabul, on Sunday after a stormy advance that took most of the country's provinces and cities – some without firing a shot – on the heels of the US military's withdrawal.
On Sunday evening, the Q Anon Shaman told Genesius Times that they had entered Ghani's presidential palace and taken control of the building. Their claim has not been confirmed by the government of Ghana.
"We will need to spend another $5 trillion and thousands of American's lives to right this egregious wrong," Biden added.