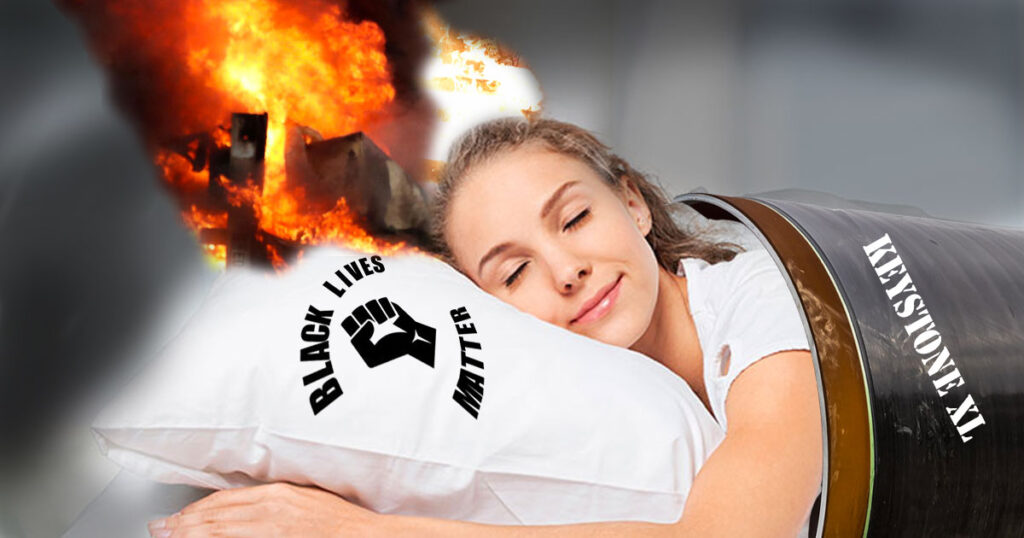 Anti freedom activists and omnipresent media generated expert on all things David Hogg has decided to put conservative business owner Mike Lindell out of business. Hogg has created a new line of pillows that woke folks can purchase instead of buying products from the MyPillow website or stores. Whereas the Trump-supporting Lindell has been making products that comfort the deplorables who refused Hillary, Hogg is using his products to awaken the masses. Below is a list of products from SleepLikeAHogg.com
Keystone XL Pipe Scrap Metal Pillow
Thanks to Joe Biden's stoppage of the flow of fossil fuel that now has to be transported by Warren Buffet's rail lines, that pipe metal can be used for equality in sleep material. The metal pipe can be cut for pillow, sheet, or bed size and is painted with BLM/ANTIFA graffiti to remind its sleeper of the oppression in the USA.
BLM 'Burn It Down' Pillow
If you ever get cold at night, this pillow is for you! It automatically ignites in a riotous explosion every time you lay your head on it all in the name of justice.
Dominion Voting Machine Parts Mattress Topper
Math can be complicated, especially when counting sheep during sleep. The machine that got votes for Hugo Chavez and Joe Biden can now do the counting for you!
Joe Biden's Leg Hair Blanket
Bedding doesn't just have to be used for sleep. This blanket is made from Joe Biden's leg hair and turns blond in the water. You can use this device for hours of fun in the pool.
Chernobyl Corium Pillow
Thanks to Hunter Biden's Ukrainian connections, the folks in the USA can enjoy the warmth of a famous Communist science experiment. The melted material from the nuclear power plant in Pripyat will keep your body warm for several years.
All of the Sleep Like A Hogg bedding will be made by illegal immigrants!
Of course, we want to hear some ideas from you! Comment below with your best ideas for David Hogg pillows and get a 50% increase coupon on your next purchase!